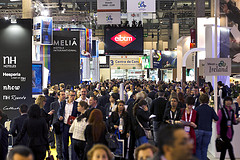 EIBTM, one of the world's most prolific meeting and events trade shows, is calling for submissions to its annual Technology Watch competition, with the deadline for entries set for September 6.
The Technology Watch recognition scheme highlights new technologies that aid planners and participants of business events. Entrants must demonstrate the effectiveness of their innovation to a panel of expert judges who will then decide which technology is the most impressive.
Alongside the Technology Watch 2013 accolade, the winning entrant will also receive a free stand in EIBTM's Technology and Events Services Village. The prize guarantees exposure to the 15,000 events professionals and global media expected to attend the show. In addition, the winner will also receive coverage in the show daily, event catalogue and online at eibtm.com. A diary of meetings will also be pre-arranged with buyers who have indicated their interest in the product prior to the show.
Tony Lorenz, CEO, of BxB Online and winner of the 2012 EIBTM Technology Watch Award said: "EIBTM is one the few truly international events in our industry. It affords a very targeted experience with the marketplace in one of the world's greatest cities – Barcelona. We look forward to a continued alignment and participation with EIBTM in the years ahead".
The 2013 Technology Watch judging panel will once again be chaired by Corbin Ball of Corbin Ball Associates and will also feature a number of leading industry experts including Martin Sirk, CEO, ICCA; Paul Hussey, business development director, BSI; Bruce MacMillan, CEO, Bandwidth Management and Consulting; Michelle Bruno, president, Bruno Group Signature Events; Ruud Janssen, managing director and owner, New Objective Collective and Christine Fuchs, head of sales at Horizont Jobs.
Submissions will be judged on a number of criteria including: innovation and uniqueness, impact to the meetings industry as well as completeness of the product of service.
To enter for the EIBTM Technology Watch, visit eibtm.com/techwatch
Graeme Park