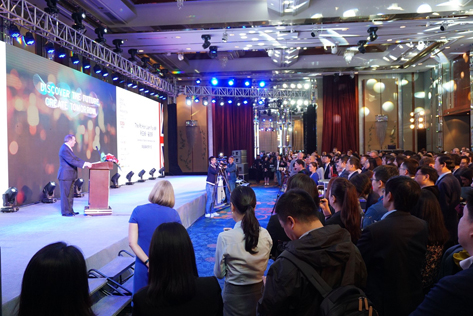 UK International Trade Secretary Liam Fox visited Shenzhen to speak with Chinese government officials and business leaders about the GREAT Festival of Innovation, which comes to Hong Kong in March.
The British minister gave a speech at the Ritz-Carlton Shenzhen in early January in which he discussed strong developments in Chinese and British innovation and how to further technology and trade opportunities.
Fox promoted the UK government-backed GREAT Festival of Innovation, which will showcase the latest technology from Britain and Asia, and visited the Design Society at its new home, the Sea World Culture and Art Centre in Shekou.
The Design Society in Shenzhen is the result of a partnership between China Merchants Shekou and the Victoria and Albert Museum, London. The Design Society emphasises design-based innovation through its exhibition programme.
The UK's Department for International Trade is preparing to welcome industry leaders, entrepreneurs, creatives, educationalists and businesses from Britain and Asia at the four-day GREAT festival to be held at Asia Society Hong Kong Centre from March 21 to 24.
The Hong Kong edition of the GREAT Festival of Innovation is the third after the GREAT Festivals of Creativity in Istanbul (2014) and Shanghai (2015). Its vision is to share innovation and create trade long-term partnerships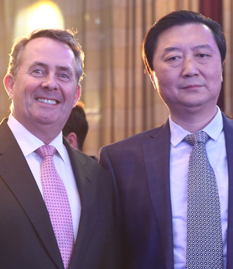 The event comes as Britain negotiates its exit from the European Union, including the EU's single market trading bloc and customs union. Fox said China was the UK's fifth largest trading partner and "an important market for British companies as we look beyond the boundaries of Europe to build independent trading relationships with the rest of the world".
The Department for International Trade, which Fox presides over as minister, has also just announced up to GBP25 billion in financial support – including loan guarantees – for UK businesses operating along the Belt & Road initiative. The Chinese government initiative is aimed at increasing economic cooperation with global economies along key transport routes.
Jingwei Guo (above right with Liam Fox), deputy director-general of the China Council for the Promotion of International Trade, Shenzhen Committee, said: "Shenzhen has seen rapid development in technology, life science, AI, industry, design and finance.
"There are great opportunities for Shenzhen to work with the UK in areas of R&D and technical application. We should build up cooperation for innovation in order to further enhance collaborations on a policy and funding level."
More: High-powered British delegation takes forum to Chengdu