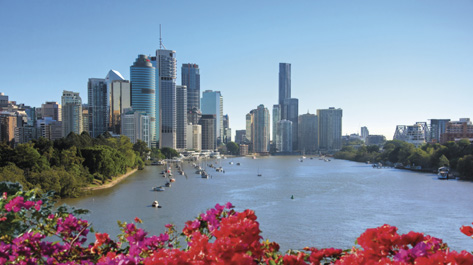 BRISBANE has landed a major tourism windfall after being selected to host one of the world's largest travel industry conferences.
The region has been confirmed as the venue for the Flight Centre Travel Group's global conference in July 2020, an event that will bring up to 4,500 travel consultants, executives and senior travel industry figures to the city and its surrounds.
The incentive event was secured by the Queensland Government through Tourism and Events Queensland and Brisbane City Council through Brisbane Marketing.
Brisbane Lord Mayor Adrian Schrinner said Flight Centre's Global Gathering conference would deliver a A$7 million (about US$5m) economic boost and he looked forward to welcoming the company's top achievers to its global headquarters.
Flight Centre acquires Hong Kong's Maya Events
"We're confident that once the world's leading travel professionals experience what Brisbane has to offer, they too will become advocates for our incredible city," Schrinner said.
"Brisbane is increasingly lauded as a top place to visit thanks to our glorious weather, new hotels and attractions, natural environment, local culture and welcoming people. The Global Gathering will help keep Brisbane top of mind as an international destination of choice."
Flight Centre Travel Group managing director Graham Turner said the annual conference, known as the Global Gathering, would run from July 10-12 next year and would showcase the region to the company's top achievers globally.
"The Global Gathering is the most important conference on our annual calendar and is a keenly anticipated event for our 20,000 people throughout the world," Turner said.
"Brisbane is our global headquarters, so it's fitting that we bring our people to the city to take part in this important event and to sample southeast Queensland's world class features and attractions.
"The overwhelming majority of the delegates will be travel consultants and they will gain first-hand experience of these features and attractions and will then share that knowledge with their customers, opening the door to further tourism benefits long into the future.
"Of course, the Global Gathering will also deliver immediate benefits to the local economy as our 4,500 delegates travel to the city for three days of conferencing and given that they will be encouraged to extend their stays to make the most of their visits to Queensland and to Australia.
"We thank Brisbane Marketing and Tourism and Events Queensland for their help in bringing this event to Brisbane for the first time."
Tourism Industry Development Minister Kate Jones said securing the conference was a clear demonstration of the respect Brisbane had globally throughout the travel and business events industry.
Brisbane prepares to welcome 1,500 from Herbalife
"Conferences and business events are a multibillion-dollar global industry," Jones said.
"We bid for events like this because they help to grow our tourism industry and create jobs in Queensland.
"The fact that we've been able to secure one of the industry's largest global conferences for Brisbane proves that our reputation as a world-class destination for events continues to improve."
The Global Gathering, which was last held in Australia in 2001 (Sydney), is sponsored by some of the world's leading airlines and tour companies and attracts senior travel industry executives, along with high profile guest speakers.
Keynote speakers at previous gatherings have included former United States president Bill Clinton, Andre Agassi, Michael J Fox and Gwyneth Paltrow.
The 2019 Global Gathering was held in Las Vegas and featured Mark Wahlberg.