HONG KONG Noting the lack of networking socials for the marketing industry, global brand experience agency Jack Morton decided to organise an event aimed squarely at industry practitioners to provide a platform for sharing ideas and best practices on branding.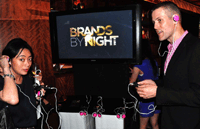 About 200 marketers descended on the new Privé located at Century Square in D'Aguilar Street, Central last June 6 for the affair, dubbed "Brands by Night". Most of the participants, hailing from the top experience brands, had a chance to mingle and discuss their point of view over a flute of champagne.
Two professionals were invited to take the floor that evening: Jane Tsai, vice-president of marketing communication at Galaxy Macau and Richard Leong, marketing director of Pizza Hut Hong Kong.
"The first edition of Brands by Night was just a trial to see whether our industry has the demand for an event like this," said Guy Parsonage, managing director, Jack Morton Hong Kong.
After the talks, the crowd went back to partying and enjoying the talents of a deejay and a live painter. To facilitate even more networking, a game to break the ice was initiated.
Gigi Onag