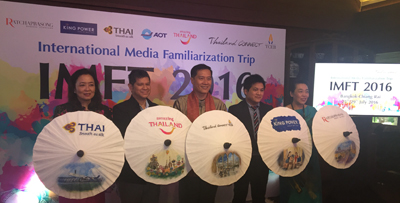 Encouraging meetings and events visitors to engage more with communities in Thailand is one of the goals TCEB and its partners have set, Thai tourism officials revealed yesterday.
Thailand Convention & Exhibition Bureau (TCEB) and partners said community engagement and increased revenue were vital to the success of the country's tourism industry.
"Although we welcome the number of arrivals, we are now looking for more revenue," said Chattan Kunjara Na Ayudhya, executive director of the Tourism Authority of Thailand's advertising and PR department, speaking at a press conference in Bangkok on Monday.
"We want people to be spending more, but we also want them to be happy spending more. We are trying to work with our partners to create experiences to have them [visitors] stay longer and to really go deeper into the trip; to engage more with locals and engage more with the stakeholders," he said.
Welcome Packages
Monday's press conference opened the TCEB International Media Familiarisation Trip 2016, which will showcase the northernmost province of Chiang Rai as an emerging business events destination with an emphasis on CSR and community engagement for groups.
In a Q&A session with delegates after the conference, Weerasak Kowsurat, TCEB chairman (pictured above, centre) disclosed how the organisation is targeting MICE visitor spending specifically.
TCEB has already distributed 15,000 Thailand CONNECT Welcome Packages, Kowsurat said. The packages, which include privileges such as a BTS (metro) pass and seven-day free wifi usage, are designed to encourage further travel and to help business travellers connect with the three pillars of Thailand's MICE industry: destination, business and people.
Golden Triangle
Kowsurat highlighted Chiang Rai's strategic location in the Golden Triangle, enabling visitors to connect to the bordering countries of Laos, Myanmar and China "in one day".
The TCEB International Media Familiarisation 2016 Press Conference was held at Nai Lert Park Heritage Home, Bangkok. Delegates were treated to a private tour of the House, followed by a four-course local dinner and traditional puppet performance at The Exhibition Gallery.
TCEB's partner organisations include the Tourism Authority of Thailand, Airports of Thailand, Thai Airways International, King Power International Company and the Ratchaprasong Square Trade Association.