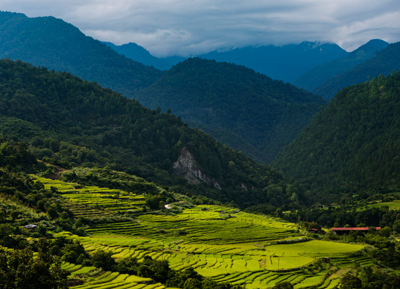 Delegates are being offered a new perspective of the Himalayas, thanks to the launch of a six-day helicopter tour by Como Hotels & Resorts.
Como Uma Bhutan has unveiled its 'Scenic Heli-Adventure' six-night itinerary, inclusive of helicopter flights, accomodation, spa treatments and more.
James Low, general manager of Como Uma Bhutan says: "We are thrilled to be launching a six-night helicopter itinerary that allows our guests access to some of the kingdom's further-flung wonders and to show travellers authentic Bhutanese life."
The 'Scenic Heli-Adventure' package takes participants to four different valleys through two guided flights – the Laya Valley, home to the Layap people; the Punakha Valley, known for its dzongs (Bhutanese fortresses); the Valley of Paro, famous for its rice paddies and ancient temples; and the Labatama Valley, home to the Turquoise Lake and to Bhutan's nomadic people.
At ground level, the itinerary includes guided excursions to Bhutan's mountain regions, optional white-water rafting, and treks through yak-herding lands, where it's possible to spot yaks, marmot and rare species of sheep.
The trip ends with a body treatment or yoga session at Como Shambhala Retreat.
Throughout the tour, guests are put up in Como Uma Bhutan lodges, spending four nights at Como Uma Paro (Paro Valley) and two at Como Uma Punakha (Punakha Valley).
The full itinerary can be found here.