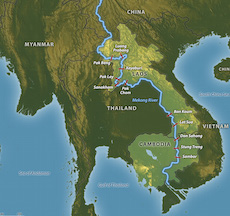 The 11th edition of the International Travel Expo Ho Chi Minh City has got underway at the Saigon International Exhibition and Convention Center.
In a campaign that promotes the five countries linked by the Mekong river, the show (from September 10-12) will exhibit products available in emerging corporate travel destinations such as Vietnam, Cambodia, Laos and Myanmar, in addition to Thailand, the most established business events destination in the Mekong region. This year's campaign is promoting more Asean destinations, growing from 'three countries, one destination' in 2007, which promoted services in Cambodia, Laos and Vietnam, to 2012's campaign when Myanmar was added. Thailand joined the fold in 2013.
Each of the five countries has made bilateral aggreements in order to facilitate tourism efforts, such as overground and air travel between Asean destinations and further afield. Destinations highlighted in this year's educational programme include Siem Reap (Cambodia), Chiang Mai, Bagan (Myanmar) and Luang Prabang (Laos).
ITE HCMC reportedly attracted 320 exhibitors from 21 countries in 2014. Organisers have said that attendance saw a 20 per cent increase from 2013.
This year, the show is expecting 220 international buyers from key markets in Germany, France and around Asia, and 100 domestic buyers from travel firms within the Asean sub-region. Organisers are expecting a 25 per cent increase in attendance this year.