The relationship between the meetings industry and airlines has had its ups and downs over the years, but there are signs it is now flying high again after a recent period of turbulence.
Planners say that, for a while, airlines were more interested in pursuing the budget and luxury markets than accommodating group business travel needs as they battled competition, increasing fuel prices and online bookings.
But Gregg Talley, president of the Talley Management Group, says there is a change in the air. "Many airlines either scaled back or eliminated their group products for a number of year. A few kept the faith.
"As the alliances have beefed up, so, too, their attention to our market, and now some of them have quite robust group departments. Lately we are seeing individual airlines with enhanced products or services."
Issues surrounding the relationship between the meetings industry and airlines were the subject of a special panel of the ICCA Congress in Kuching, Malaysia, last November. The discussion explored ways a "more intelligent long-term business partnership" could be developed between airlines and conference planners.
Eric van Piggelen on what Sarawak's hosting of ICCA 2016 means for the Malaysian state
Olav Glorvigen, former director sales and market development with Star Alliance, who is on the ICCA board and was a panel chair at the congress special session, explains how pressures
on airlines affected group business travel.
"I don't think it's fair to say that the airlines have been downgrading the meetings industry or paying less attention to it. I think it is part of a larger focus, an increased focus on making sure that efforts have been going into the right channels. Some of the traditional airlines have been looking for ways to cut back in many places and it may be that the meetings industry has been one of those areas that has been suffering," he says.
"I would say that things are settling. There was an upheaval for a long time. You must remember that our industry – the traditional carriers – goes back to 1946 or so and a lot of it has gone practically unchanged until the local carriers came along. They revolutionised everything, turned everything around. It has taken time to settle and that is happening now."
Glorvigen says the difficulties many airlines faced led to group travel products being scaled back, with oneworld Alliance pulling out of the market some years ago before relaunching in 2013. Another example, highlighted during the ICCA panel debate, he says, is Malaysia Airlines.
"We got this feedback in the session from the convention bureau, who said the airline was not interested for a while, but that after conversations has come back and is now working together with them to make sure Malaysia is getting business."
Malaysia Convention and Exhibition Bureau (MyCEB) and Malaysia Airlines signed a strategic partnership agreement in April last year for the airline to become MyCEB's preferred carrier for business events and to promote Malaysia as a destination.
"Through this partnership, we have provided a series of co-operative sales and marketing platforms in order to create mutually beneficial business opportunities," says Ho Yoke Ping, MyCEB's general manager for business events.
"While navigating the next phase of business tourism, the strategic partnership is geared towards branding and promoting Malaysia as a preferred destination for business events, and further upholds the Ministry of Tourism and Culture Malaysia's target of achieving 36 million in tourist arrivals by 2020."
Glorvigen says the Malaysia example is a positive answer to one of the questions of the debate, "How do you get your airline to wake up if it is not awake?" Another question involved the issue of cost, and the fact that teaming up with an airline was more than just about buying the cheapest tickets.
"I mean, you can walk, it is cheaper, or you can take the train," he says. "We were linking back to the fact that, in addition to fares, you have to make sure your airline is consistently working with you. If your convention is say, in Tallinn, you can work with Star Alliance, but you can also work with Ryan Air. But next year, when it is in Bangkok or Hong Kong you can't rely on Ryan Air. Local airlines are limited in terms of destinations and service."
Michael Chiay, senior director, Asia Pacific, CWT, says "companies are increasingly looking to integrate air travel management into meeting planning", and agrees there is much more to working with an airline than ticket prices alone.
"The advantages of managed group air travel include competitive fares, flexible ticketing options, dedicated support for travellers on the road, and traveller tracking and safety tools, which companies and their travellers may not get booking through online B2C channels," says Chiay.
Eric Bakermans, marketing manager, meetings, conventions and events, with the Netherlands Board of Tourism and Conventions (NBTC), says that while "the relation went sour" between airlines and the meetings industry for a while, "it is clear that we all need each other", adding that NBTC has "an excellent business working relationship with KLM as well as Amsterdam Airport Schiphol".
"We create long-term alliances on developing (long- haul) markets, both for the leisure and the business events market. We carefully determine where our mutual strengths are, as well as finding common grounds in our strategies," Bakermans says.
While NBTC has developed links with the Dutch national carrier, other organisations, such as MCI, have developed relationships with selected airlines. MCI entered into a two-year agreement with Emirates in August 2015 for it to be the company's group travel partner for large and international events.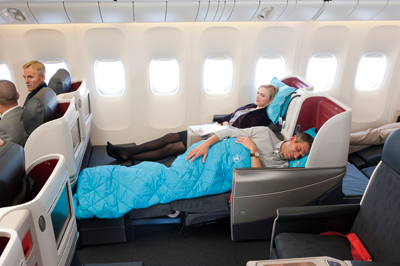 MCI founder and chairman Roger Tondeur says the strategic travel partnership offers "best available rates for delegates and discounts in all classes of travel… [and] has enabled MCI to negotiate global benefits which can be implemented at any event regardless of location".
"This unique travel partnership allows our customers and event planners to work more effectively on the complex requirements of the meetings industry globally, providing a global reach spanning over 140 cities on six continents.
"Furthermore, beyond the obvious travel benefits and procurement savings, with our MCI and Emirates partnership we are able to centralise and provide key data insights to our customers so that they can realise better business decisions."
With planners and airline officials talking about common strategies and a new spirit of co-operation, alliances and many airlines now have group business travel offers in place. Star Alliance has Conventions and Corporate Plus, oneworld offers oneworld Events, and Sky Team features Sky Team Global Meetings.
Michael Blunt, vice-president corporate communications with oneworld says that although the alliance's latest business travel offers are relatively new, they offer "a truly global network, great coverage of all the destinations most important to event organisers, with a dedicated online booking service, special support tools and the opportunity to earn credits towards future travel."
Individual airlines now also offer their own solutions, examples including Cathay Pacific's MICE programme, Singapore Airline's SQCorporate, Thai Airway's Thai MICE, and Qatar Airways' QMICE.
Turkish Airlines operates Turkish Conventions, which, chief marketing officer Ahmet Olmuştur says, is the result of the company forming a department responsible solely for handling MICE operations.
There is general agreement that group air travel now plays an important role in overall meetings strategy and that mutually beneficial relationships with airlines are the way ahead.
"Group air management services are an essential component of most meetings or events," says CWT's Michael Chiay.
"While airlines continue to consolidate their online B2C strategies, there is still much value to be derived from group air management, and companies are increasingly looking to integrate air travel management into meetings planning."
Want to read more about the relationship between the meetings industry and airlines? Thoughts from MCI, Turkish Airlines and Olav Glorvigen