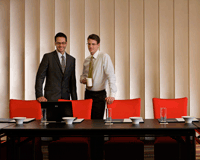 HONG KONG Accor Group yesterday unveiled its new Planet 21 environment programme, and in conjunction with this, is now conducting a comprehensive research into the viability of green meetings.
The Planet 21, the hotel group's sustainable development programme, aims at increasing efficiency of energy use, offsetting emissions and promoting sustainable eco-design while striking a balance with Acoor's business objectives. The new scheme is structured into 21 concrete measures , each with quantified objectives that all Accor hotels must meet by 2015, in areas such as responsible eating, cutting water and energy consumption and preventing illness.
Accor vice-president of communications for the Asia-Pacific region Evan Lewis said that the research into incorporating environmental sustainability to meetings and events has already started and is expected to be published in June this year.
Investigating and surveying the expectations of meetings groups, Mr. Lewis noted, is the first step to reaching a consensus of what actually defines a green meeting.
He also said that the environmental aspect of meetings is of a priority and 73 per cent of hotels under Accor Group currently sort and recycle paper and cardboard used – in three years time, this figure is to rise to 85 per cent.
By 2015, 20 per cent of hotels under Accor Group will offer green meetings solutions.
Accor manages the Sofitel, Pullman, Novotel and Grand Mercure hotel brands among others,
Randall Sim