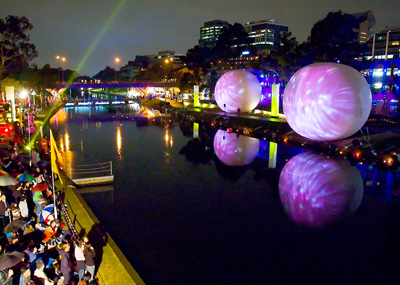 When did the mega incentives really take off for TLS?
My first big one was in 2011 for Amway China. At the time it was the biggest piece of business (of its type) to come to Australia, so it was a good one to start with. Since then we've done dozens and dozens of different events for different markets.
How did you start out in live business events?
Previously I worked for a company that specialised in fixed [entertainment] attractions, predominantly in Hong Kong, mainland China and Singapore. I guess it was an easy transition from going to fixed attractions to where we specialised in placing water screens, architectural lighting projects into events: same skill sets.
We've been going 11 years and doing pretty well in that period. Five years after we started we got our first look into the Asian market when we did 10,000 travellers from China for Amway. We did big galas for them.
Tell us about your operation, Triumph?
We built up to 15 people about five years ago, which for an event company in Australia is not a bad size. At the time we weren't just producing events, but also a TV show and we've restructured our business like a lot of other companies. We tend to work with a lot of sub contractors now because the best people in the business are generally pretty expensive – and if you're not keeping them busy all the time the bills will pile up. So we've moved to a sub-contractor model where we have half-a-dozen full-time staff and the others are sub contractors. That would reach 100-200 on some of our really big events.
Among the Chinese groups, what have been your favourite events?
My favourites would be the really big ones with big budgets where they want to do something out of the box – do something that no one has ever done before: break new ground and give you creative licence. They're the ones I really like.
We did one last year for Nu Skin China. This was an example of an event where we did have creative licence. We put in a huge stage at Darling Harbour with add-on water entertainment. That was a lot of fun.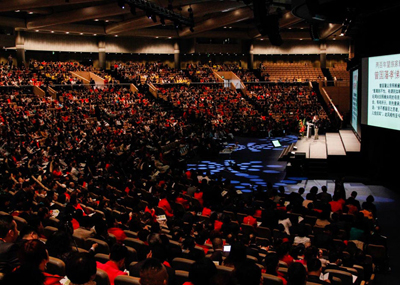 We've been quite lucky in that we've done a few fairly big ones. Perfect China (above) was great for a whole range of reasons; Amway China too with a few exciting things like creating a lot of original content on a 120×100 metre screen; Nu Skin last year was really exciting as it was on the water. There's good variation between those three projects and they were big events. But there were other highlights with lots of the smaller groups we've done cool stuff for.
Do the smaller groups prefer anything different?
An example of an event we've been working on is for 300 people in December for Amway Japan's VVIPs. Again we have reasonable budgets to work with and have hired Margaret Court, home of the Melbourne Open tennis, where the roof can be opened up, and we've got some amazing celebrity guests attending the event. The production value is not the same in that we don't do [huge] shows in terms of scale and magnitude, but certainly the quality of entertainment is high. Margaret Court in Melbourne – we'll be able to make the guests feel as if they're at the Australian Open.
Where do you see these events going from here?
I'm seeing a lot more volume… the really big ones that have been a focus for us are few and far between – one every second year – but certainly there's a lot more groups coming. I've noticed that Asia groups coming to Australia have become more discerning and sophisticated in what they want. So we have to push a little bit harder than we did two years ago – but that's evolution.
They want to be wowed, but they always want a unique Australian experience, which is good because we have a lot to offer.
Any advice to people entering the industry?
Basically I think it's about hard work. There are a lot of courses out now on event management. For every event manager a decade ago, there's probably 10 now. So that's where your hard work would come in.
Blake Harris is managing director at Triumph Leisure Solutions, a creative production agency based in Australia