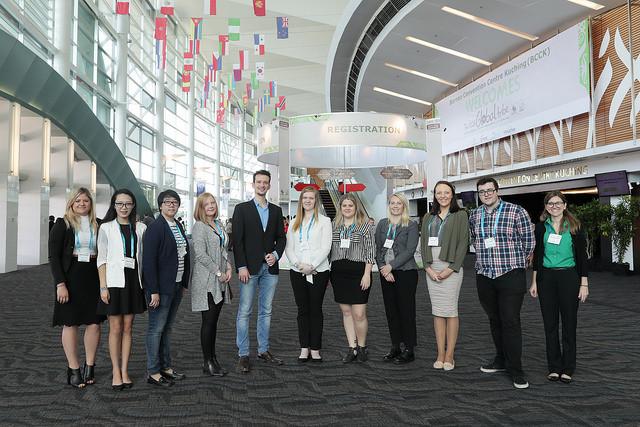 No matter what's on the official agenda, or however earnest the organiser is about the next mesmerising keynote, the most informative meetings can often take place beyond the conference room.
This was the case in a ground-floor banquet hall at Borneo Convention Centre Kuching during the ICCA Congress 2016. The gathering wasn't the usual mass of middle-aged powerbrokers from across the world. What distinguished these guests was that they had youth on their side – 20-somethings without the "millennial" hallmarks that myth-making marketers are so keen on bandying about of late.
Thanks to scholarships from Sarawak Convention Bureau, 15 event planners and meeting experts of tomorrow were in Malaysia Borneo for the experience of a lifetime (and the ICCA Congress, of course).
There were many highlights to the five-day event, but the Next Generation Lunch offered a telling few moments that give hope to anyone concerned about the future of the meetings industry, particularly as 2016 draws to a close with geopolitical uncertainty bubbling.
Borneo convention centre's time has come
Among those taking their places at the VIP tables in the presence of ICCA president Nina Freysen-Pretorius and the organisation's CEO Martin Sirk, was Ziwei Zhang, a student at Hochschule Osnabrueck University, Shanghai.
Ziwei not only had praise for Sarawak's efforts in helping the students attend the congress, but how Sino-European cooperation is opening opportunities for people in China interested in a career centred around meetings, events and incentives.
"I'm lucky really – the scholarship came from the joint programme we have with a German school that has links to ICCA," she told me after lunch.
"The level of organisation I'm experiencing here at ICCA is bringing me closer to the meetings industry and I'm learning more about things like presentation skills that I can use in real life," says Ziwei, who is majoring in event management and hopes to study for a post-graduate degree in Canada.
Her decided motivating factor would be music to the ears of many business owners: "I think it's so much fun to organise things."
ICCA honours Malaysia meetings industry pioneer
Appropriately enough, the task of arranging the Next Generation Lunch (including the seating plans) landed on the shoulders of another scholarship winner, Stephen Liu.
Little wonder Stephen plans like a boss, keeping me and a host of other MICE hacks up-to-date on the lunch, which was sponsored by Kaoshsiung and Meet Taiwan. Stephen works for GIS Group, which along with Kitty Wong's K&A International are Taiwan's stalwarts in the regional conference circuit.
All those young luminaries are too numerous to mention here, but look out for Melanie Adan, the Korean-speaking Filipina currently helping coordinate international MICE activities for the nation's tourism organisation; Harry Bower, a student at the School of Hospitality and Tourism Management, in England's Surrey University, who has meetings and events pedigree, and Clare McMennemin, of William Angliss Institute, Melbourne.
If anyone shares a gripe with you about millennials – just mention ICCA's next generation.
On another note, MIX wishes its readers and advertisers a joyous Christmas and a happy 2017. We'll be offline for a couple of weeks from December 24 and back with another e-newsletter on January 3.