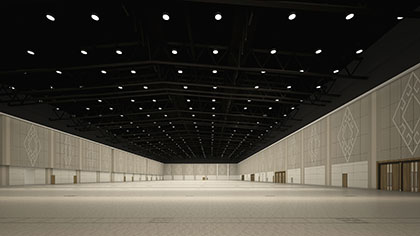 January's opening of Khon Kaen International Convention and Exhibition Centre (KICE), which boasts more than 8,400sqm of events space, marked a significant milestone for the northeast of Thailand.
Khon Kaen is one of the "big four" cities of Isaan, Thailand's largest region which comprises 20 provinces in the northeast of the country.
Despite its vast size, and having a rich, diverse culture, the region had until fairly recently only attracted more adventurous foreign tourists.
International business travellers wanting to visit the destination were even fewer and further between.
That started to change in 2013 when Thailand Convention and Exhibition Bureau (TCEB) announced the city would become Thailand's 5th MICE City, joining Bangkok, Phuket, Pattaya and Chiang Mai. A four-year initiative was launched to develop the city's meeting's facilities and content.
Initial efforts focused on growing the domestic trade with a focus on government events, as Khon Kaen is both a northeastern economic and governmental hub. Neighbouring markets were then targeted. The following phase marketed the destination regionally and internationally with TCEB holding a longer-term goal of having the city ranked as a top 10 MICE destination within the Asean bloc of Southeast Asian nations.
Notable improvements have been made in the city's offering. However, success on the international front has been muted.
International groups come to Khon Kaen for smaller meetings and incentives, says Arisara Thanuplan, a senior communications manager at TCEB, though there is some activity in corporate conventions and exhibitions. The surrounding natural and cultural environments are starting to attract groups looking for pre- and post-event activities.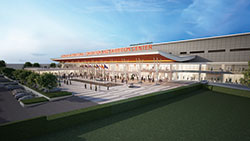 Developments such as KICE have improved infrastructure, so TCEB is working on the destination's softer side. "Our MICE marketing plan development in Khon Kaen is focusing more on developing content and activities," says Arisara.
"TCEB is planning to develop new routing according to seven themes [of our national MICE promotional campaign]: Exhilarating Adventures, Culinary Journeys, CRS and Green Meetings, History and Culture, Teambuilding, and Lavish Luxury."
In the meantime, Khon Kaen remains more of a regional or cross-border, rather than international, MICE destination. TCEB says most regional delegates come from the surrounding Greater Mekong Sub-region: Myanmar, Laos, Cambodia, China and Vietnam.
Key meetings held in recent years include the Thai Asean Trade Fair 2012 at Central Plaza Khon Kaen, APEC-Khon Kaen International Symposium 2015, 2016 and 2017 at Khon Kaen University, and the 12th International Conference on Humanities and Social Sciences 2016 also at the university.
The city has two international branded conference hotels, the Pullman Khon Kaen Raja Orchid Hotel and the larger AVANI Khon Kaen Hotel & Convention Centre. The Golden Jubilee Convention Hall at Khon Kaen University was Isaan's largest meetings space with a maximum room size of 3,000sqm until KICE opened earlier this year.
Access is another limiting factor for international groups. Flights are really the only viable option for foreign groups as journeys by road and rail from Bangkok take in excess of eight hours. Khon Kaen Airport is serviced by 36 domestic flights a day from Bangkok, Chiang Mai and Had Yai, with most overseas connecting via the capital.
Construction is due to start this year on a new terminal that will double capacity to 5 million passengers a year within 2021 when it is tabled to open. There are rumours that it will be upgraded to an international airport at that point, which would be boost for the destination's MICE industry.
More Issan settings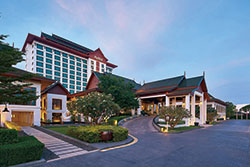 Avani Khon Kaen Hotel & Convention Centre
The AVANI (left) rebranded from the Centara Hotel & Convention Centre Khon Kaen in 2016. It offers 196 rooms in five styles and 4,000sqm of meeting space across eight flexible facilities that can accommodate up to 2,500 people.
The AVANI Convention Centre is the property's largest space at 1,702sqm with room for 2,500 people in a cocktail setting. It can be divided into three separate equally sized spaces. The 538sqm Prachasamosorn Ballroom, which can be divided into two rooms, sits up to 500 people in a theatre configuration.
Smaller groups can make use of one of three identical Ratchaphruek rooms, which at 118sqm can each sit 120 people in a theatre configuration.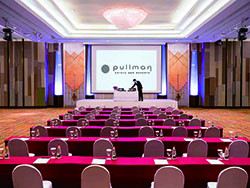 Pullman Khon Kaen Raja Orchid Hotel
The 293-room property (right), which includes 46 suites, features 10 meetings spaces over four floors, the largest of which, the 1,431sqm Grand Orchid Ballroom, sits up to 1,800 delegates. The ballroom can be divided into three separate spaces. Other meetings rooms range from 30sqm to 170sqm.
Golden Jubilee Convention Hall
Located at Khon Kaen University, this venue has been the mainstay of the city and Isaan's meetings industry since it opened in 1994. It offers 5,420sqm of dedicated meetings space, including the 3,000sqm Convention Hall, which can seat 1,200 people in a classroom setting. Additional space includes the 2,200sqm Multi-Purpose Room and a 220sqm VIP room, which can also be used for smaller events and meetings.