Meetings Imagined, an online creative meetings platform by Marriott, is being launched in Asia Pacific along with the brand's Meeting Service app. The campaign is backed by studies into the psychology of meetings and data from some 40,000 events held at the group's properties.
The innovation is one of the latest to come from global hotel groups competing for a larger share of the meetings, incentives, conference and events market. According to Marriott, that market earned more than US$120 billion of business in Asia Pacific over the past two years and the company is eager to deepen its appeal to event planners by helping them with creative ideas and organisational tools.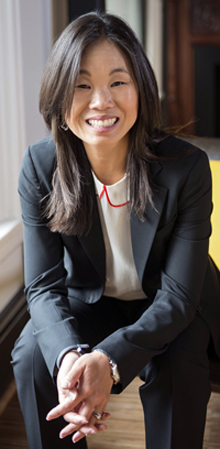 Peggy Fang Roe, Marriott's sales and marketing chief for Asia Pacific, tells MIX Editor Martin Donovan why Meetings Imagined is being rolled out at approximately 100 properties across the region, whether it will catch on among planners and the research on the psychology of meetings that helped develop the product.
Why is it important right now for Meetings Imagined to be launched in Asia Pacific?
Peggy Fang Roe: There is significant MICE potential in the Apac market and Meetings Imagined will facilitate its proliferation. Take Hong Kong for example. It is one of the world's key financial centres and most major banks and financial institutes conduct regular meetings, symposi- ums and trainings there. Being part of the Pearl River Delta and a gateway city to mainland China also generates meetings of different scales within the professional service, manufacturing, logistics, and consulting industries. Other factors to consider are the upcoming high-speed train that will is due to begin service in 2017, which is when Hong Kong will merge with China's massive train network, and the opening of the Kowloon West District.

There are hundreds of events taking place every month in Asia, but through our research we discovered that they were all dealt with in the same "one size fits all" kind of way. This is tiresome for the event organisers and underwhelming for the event attendees. With further research we concluded that the organisers of these events were looking for inspiration and ideas to make the events more effective, more engaging and more fun. Hence, Meetings Imagined.
Marriott International's goal is to position itself as the world's favourite travel company, especially in Asia Pacific. Meetings Imagined (MI) is one of the ways we will achieve this objective.
How do you think MI will capture the attention of meeting planners? Is it aimed at the corporate level or can it be extended to associations or events such as product launches?
PFR: We think Meetings Imagined will capture the attention of meeting planners because of the insights we have uncovered. Marriott analysed over 40,000 meetings that took place in our hotels around the world and found that there are basically seven key purposes that drive the need for a meeting: celebrate, decide, educate, ideate, network, produce and promote. It will also capture the attention of the planners because it is a very aesthetically pleasing and intuitive website, modeled on the user-friendly Pinterest.com. The website is curated around the seven purposes and the component building blocks of meetings (for example, setup, food & drink, tech & supplies, and experiences). Meetings Imagined provides expert tips on everything related to meetings, including networking activities, maximising social media exposure and how to create the right meeting environment. We aspire to provide something different to address the milestones – and pain points – in the planners' journey."

Meetings Imagined can be used beyond the corporate level. We invite people to enhance their personal events with meetings Imagined. We think any event – be it baby shower, anniversary party or Lunar Festival celebration – will benefit from Meetings Imagined.

Isn't there usually some resistance to revamping meetings, particularly in parts of Asia? For instance, how hard will it be to change the tried and trusted classroom and theatre formats?
PFR: There are some tried and true formats and they are indeed appropriate for certain types of meetings. However, Meetings Imagined offers to augment the meeting's effectiveness by suggesting modifications that will further enhance the attendees' experience. For instance, if the meeting is a brainstorming session we may suggest offering healthy "brain" food to the attendees and taking several intermissions so they may relax and think about the topics in an unstructured manner. If the meeting is a networking event we may suggest soft light and upbeat music. If the meeting is a lecture and the attendees will take notes we may suggest offering focus-enhancing smoothies and ergonomic chairs. The tried and true formats are still acceptable but through our research we have discovered how to make those formats even more potent.

Is the MI programme being rolled out at select Marriott properties, or across the board in China and other Asia markets?
PFR: Meetings Imagined is launching across approximately 100 properties throughout Asia Pacific from April 2015 onwards. We have also introduced a complementary app, Meeting Services App, which is available in 20 languages and available at 100 Marriott International hotels across the region.

What are some of the MI innovations that strike you as particularly interesting and creative?
PFR: Meetings Imagined and Meeting Services app are the first-of-their-kind digital innovations in the industry. Meetings Imagined is intended to assist the meeting planner, from inspiration through execution.

I think Meeting Imagined's most interesting and creative innovation would be the research we conducted into the psychology of meetings. Through our research we discovered that there are seven key purposes that drive the need for a meeting: celebrate, decide, educate, ideate, network, produce and promote. Each meeting is unique and it must be planned with its purpose in mind. We hope that meeting planners utilize this service and can see for themselves how their meetings are enhanced.

My favourite Meeting Services app feature would be the fact that the meeting planner can chat with a Marriott Associate in real-time. More coffee? Is the air conditioner is too strong? Would you like lunch served 20 minutes later? Let us know via the chat function without having to get up from your seat. The chat function is also very useful because we can let you know how we are progressing on the task at hand.

How successful have meetings and events been at Marriott properties over the past two years or so in terms of revenue and business statistics?
PFR: Meetings, Incentives, Conferences and Events together made up over a US$120 billion business in Asia Pacific over the past two years and Marriott is extremely focused on growing its share. With key MICE hotels in gateway cities, such as the Shanghai Marriott City Centre, JW Marriott Beijing and JW Marriott Sahar Mumbai, as well as the soon to be open JW Marriott Macau on May 27 speaks to Marriott's commitment in this space. Marriott has seen its revenue growth exceed 12-15 per cent year on year the past five years and is forecasting the same in 2015.

The other important statistic for MICE in Asia Pacific is the fact that approximately 80 per cent of the MICE business comes from clients based in Asia Pacific. Some clients may be part of a global business, but the decision to spend is coming from their AP HQ. This statistic was borne out by hotels tracking source of MICE groups. This is why investing in European or US trade shows for the purposes of securing MICE business from customers in those markets is no longer as relevant as it was 10 years ago.