Okinawa Churaumi Aquarium
Japan's tropical island of Okinawa has been highlighting its more unique modern facilities as a contrast to traditional Ryuku venues that reflect centuries of culture.
Okinawa Churaumi Aquarium is about a two-hour drive from the island's capital Naha and is a prime attraction for tourists and education groups alike. The aquarium and the surrounding grounds also make an ideal itinerary stop for conference and incentive groups. Teambuilding programmes arranged by Okinawa agencies can include indoor and outdoor activities that test marine knowledge, observation and orienteering skills. A highlight of the park is the main aquarium tank and
feeding time for the whale sharks.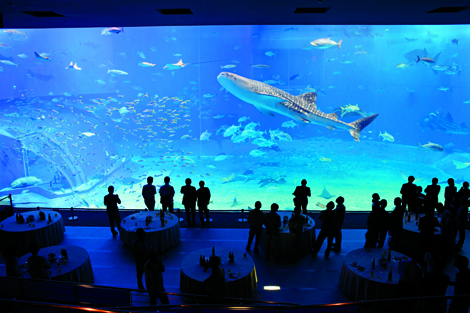 Event and banqueting space can be arranged with the tank as the main backdrop. The aquarium forms part of the Ocean Expo Park.
+81 980 48 3740
Night Safari
Corporate cocktail gatherings rarely differ from one another, so groups will see it as a bonus if an unusual location is offered.The Cocktail Safari Express at Wildlife Reserve Singapore provides a night safari tram ride taking in the nocturnal habitats of animals at the reserve. The service can cater to a minimum of 15 guests and a maximum of 72. The Gourmet Safari Express is also available and offers a mocktail followed by a five-course dinner.
Singapore Zoo has several locations for formal or informal meetings, including the African-themed Ah Meng Hut for private dining, the air-conditioned Forest Lodge, which can be used for teambuilding and other corporate events. Pavilion by the Lake has access to tranquil areas of the park. Wildlife Singapore can arrange meeting space at its four parks: Jurong Bird Park, Night Safari, River Safari and Singapore Zoo.
event.sales@wrs.com.sg
Disneyland
Hong Kong Disneyland Resort is becoming established as a venue for companies seeking to combine client entertainment and staff motivation with family nights. The corporate buyout programmes get into full swing in autumn when new parades and sideshows are unveiled to coincide with Halloween and Christmas. The concept is becoming more popular, particularly among financial services and IT companies, since first introduced in 2009 (see Inside Knowledge p15).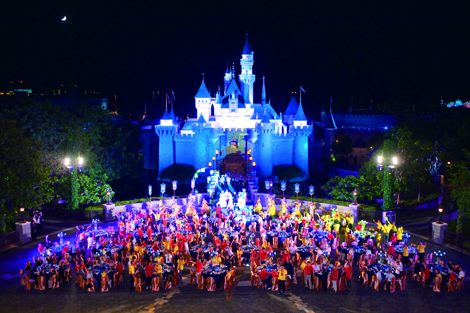 The resort has also come up with a branded "Flexi-land event concept" by which newer features of the park, such as Mystic Point and Toy Story Land can be used by planners for smaller -scale events in a single-themed area. In addition to the park buyouts, there is a conference centre at one of the resort's two hotels, in addition to teambuilding, meeting space and packages for themed events across the properties.
+852 3510 6868
Legoland
The Danish toy brand has long occupied a place in the childhood memories of delegates in Asia where sales of the building blocks are growing. Such is the popularity of the product that Legoland Malaysia Resort opened in 2012 in Johor Bahru, which has easy access from Kuala Lumpur and Singapore. Group and event packages are available at the resort's hotel, which is mainly geared towards families.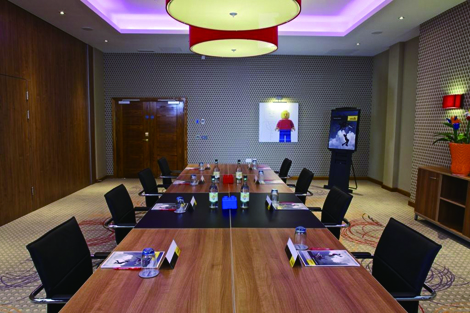 At Legoland Windsor Resort, near London, however, corporate event and meeting facilities are more prominent with more companies hiring space for family fun days. Groups of between 100 and 5,000 participants have been hosted at Legoland Windsor in 2014 and the resort's teambuilding products, including Lego Communicator, being increased in 2015.
Legoland Malaysia Resort
+607 597 8888 legoland.com.my
Legoland Windsor Resort
legoland.co.uk/hotel/corporate
Ocean Park
Another hugely popular theme park in Hong Kong that offers packages for event planners, including evening buyouts, is Ocean Park. The park, on the south side of Hong Kong Island, is well known for its pandas, aquarium, dolphin shows and amusement rides. It is also a base for marine-life research, wildlife rescue and conservation. Packages are available for VIP tours of the park, company outings for groups of at least 36 and a range of teambuilding activities. These include an Orienteering on Success adventure programme, corporate partnering with Green Earth Volunteers for CSR and the Ultimate Survival Corporate Training.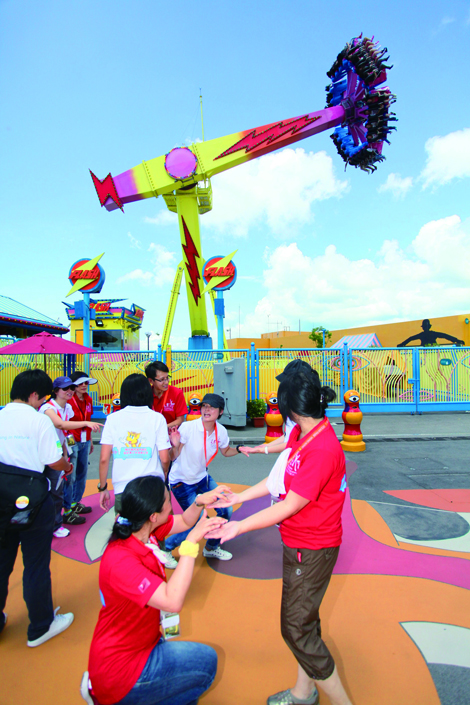 +852 3923 2556
Movie Town Haikou
Planners familiar with Hainan know Sanya well as a lure for golf-incentive groups, teambuilding and luxury product launches. But to the north, the island's capital Haikou is set to emerge on the conference and business events map. Mission Hills Haikou is the area's integrated resort, but Movie Town and the nearby Lan Kwai Fong development will see Haikou offering more to visiting groups.
Movie Town celebrates China's cinema heritage with streets modelled on period film sets. Nearby hotels scheduled to open in 2015 include a Ritz-Carlton, Renaissance and Westin. A Marriott opened in October 2014 and a Jumeirah resort is planned for 2018.