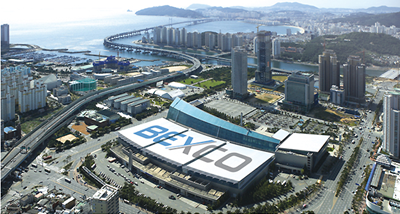 Some 2,500 guests including Busan Mayor Hur Nam-sik and other VIPs attended an event to celebrate the completion of two new buildings next to Busan Exhibition & Convention Center (Bexco).
The port city of Busan, just over two hours by high-speed KTX train from Seoul, is intent on making its mark in the world of international conferences, events and exhibitions, and the 191.5 billion won (US$175.17 million) expansion of the city's primary purpose-built facility is the first step towards reaching this goal.
"We are set to nurture Busan as a hub for exhibitions and conventions in North Asia in order to catapult the city into [a position as] one of the world's top 10 destinations for international meetings by 2020. We will be developed into a tourism-friendly city where both business and marketing occur seamlessly," Mayor Hur told the Korea IT Times in July.
Since opening in 2001, Bexco has gained a lot of experience in organising international meetings. Top events include the G20 Finance Ministers' Meeting in 2010, the Fourth High Level Forum on Aid Effectiveness (HLF-4) in December 2011, the Busan International Motor Show 2012 and Lions Club International Convention Busan 2012.
Bexco has helped make Busan the fourth-ranking city in Asia for international conventions based on 2011 figures by the Union of International Associations (UIA). It is the only Asian non-capital city to place high in the UIA list, putting Busan in the same league as Tokyo, Beijing, Seoul and Singapore.
The expansion
There are now two new buildings on either side of the original Bexco facility: the Exhibition Center II and the Bexco Auditiorium.
The Exhibition Center II virtually doubles Bexco's exhibition space by adding almost 20,000 sqm. It now has the second largest exhibition capacity in South Korea, after Kintex in Gyeonggi Province, making it even bigger than COEX in Seoul.
Spanning seven storeys – two basement floors and five above ground, the second floor of Exhibition Center II serves as an LED-lighted pedestrian underpass that connects to the original Bexco site. Six moving walkways allow delegates and visitors to move between buildings.
But the jewel of the expansion project is the Bexco Auditorium. This multi-tiered theatre, which seats 4,000 people, has a huge stage measuring 32 metres in length by 17 metres in width, and is designed to attract large-scale international meetings. The venue has also been earmarked to stage theatre and concert performances, to help boost Busan's cultural landscape. The auditorium has an underground passage that connects it to the nearby Centum City shopping complex, which encompasses the Busan Museum of Art and Busan Cinema Centre.
With its expansion project complete, Bexco is looking forward to increasing the number of events it takes on annually. The city of Busan can now expect even larger international meetings to land on its shores in the coming years.
SAIL AWAY
Enjoy a cruise around Busan's famous waters on Yacht B, the 52-foot catamaran owned and managed by Bexco. Yacht B first ventured out to sea last April 5 and since then has been available for exclusive charters for groups of up to 29 people. Onboard activities can range from fishing to relaxing foot baths. Small meetings can also be organised in the boat's main salon, which is equipped with a projector and a screen.
Exhibition space
Located in the main building, the older Exhibition Center 1 has a total area measuring 26,508 sqm, which can be divided into three separate areas. It is designed for large-scale meetings, exhibitions and events. The Glass Hall on the second floor contains four organisers' offices. Exhibition Center 2 is in a totally new building that has two basements and five storeys, covering a total floor area of 92,273 sqm. It has two exhibition halls, with an aggregate measurement of 19,872 sqm, on the first and third floors respectively. There are also six 126 sqm meeting rooms located outside each exhibition hall for breakout sessions.
Conference space
Also located in the main building, the Convention Hall covers three floors of flexible space specifically created to house conferences and seminars. The first floor facility can seat up to 1,500 people or 150 people per room. The second floor has 11 rooms with a total capacity of 1,400, while the third floor can accommodate up to 2,400 and is ideal not only for conferences, symposia and seminars but also for gala events and corporate receptions. All three halls are fitted with state-of-the-art meeting equipment, including a mobile booth for simultaneous interpretation.
Other facilities
• Multifunction Hall (main building) – This venue is comprised of eight rooms on the second floor and seven rooms on the third floor with sizes ranging from 384 sqm to 616 sqm, capable of hosting up to 120 people in theatre-style seating.
• Bexco Auditorium – The multilevel theatre spans a total area of 28,790 sqm and is ideal for stage and concert performances. It can seat up to 4,000 people.
• Nurimaru APEC House – This venue was specially constructed to host the APEC Leaders' Meeting in 2005. The three-storey pavilion is situated on Dongbaekseom Island and its architecture is inspired by the traditional Korean summer house. The open-air banquet space on the ground floor can hold 300 people for receptions and the second-floor Convention Room can seat between 120 and 240 people.
Gigi Onag