HOSPITALITY and tourism leaders in Thailand are eager to bring business activity back to pre-Covid levels with the scaling back of remaining pandemic-era rules that hinder the industry's growth, TTF 2022 in Bangkok heard this week.
More than 500 delegates, including many of Thai tourism and hospitality's most senior figures, gathered at the 11th Thailand Tourism Forum (TTF 2022) on Tuesday at the Conrad Bangkok.

TTF 2022, Thailand's largest annual tourism and hospitality event, was organised by C9 Hotelworks and backed by Thailand Convention and Exhibition Bureau among others. The forum was based around the theme #ThaiTourismUnited to chart a sustainable path out of the pandemic slowdown.
The event kicked off with the Thailand Tourism Leadership Summit with influential CEOs setting out their joint vision for the future and jointly sign the Thailand Tourism Pledge.
Backgrounder … Thailand resumes quarantine-free travel
The Thailand Tourism Pledge is aimed at laying the foundations on which Thai tourism can be rebuilt following the devastation of the global pandemic.
Leaders committed themselves to a new strategic direction for Thailand, including placing tourism at the forefront of the national economy, putting the service sector back to work, achieving sustainable growth, and making international visitors feel safe and secure.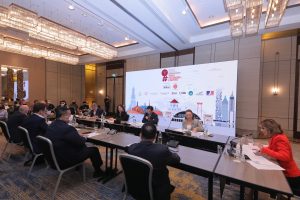 Hospitality industry leaders agreed it was time the country fully opened to tourism and business events but said complex rules devised during the height of the pandemic hindered progress.
Proudputh Liptapanlop, executive director of Proud Group, which owns two InterContinental branded hotels in Hua Hin and Phuket among other assets, said: "We need everyone to understand that we need to open up the country for their good and for the benefit of the country."
More… Thailand eyes exhibitions rebound
Bill Heinecke, chairman and founder of hotel group Minor International, added: "If we don't open up we can't be competitive. Currently the rules are just too complicated. We are not even 10 per cent of where we were pre-Covid and Thailand will not reach its target of 10 million arrivals in 2022.
"We are falling behind. We are not even keeping up with our neighbours," Heinecke said.
"There's no choice anymore," said Marisa Sukosol, president of Thailand Hotels Association. "Thailand must open up and stop Test & Go. In fact, it must Let It Go! We need to move our mentality from a pandemic to an endemic."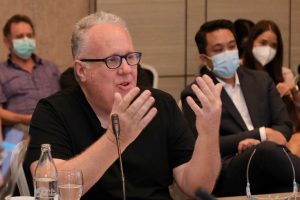 TTF 2022 kicked off with a series of addresses, debates and discussions to help attendees form strategies to survive and thrive in the post-pandemic era.
Jesper Palmqvist, STR's area director for Asia Pacific, presented new data, while Clarence Tan of Hilton and Charles Blocker, CEO of IC Partners, discussed "Why Hotel Operators Must Change".
Jakkrapong Chinkrathok, CEO and founder of Find Folk, focused on environmental issues with his "Green Thailand" session, and Wimintra Raj, editor-in-chief at Hotel Intel, went "Behind the Mask" to discuss new travel experiences. Other topics included cryptocurrencies, hybrid spaces and hotel transactions.
Bill Barnett, managing director of C9 Hotelworks, concluded the sessions by saying: "The reason we are here in-person is that this is where it starts. Travelling again starts today. We have to open the country and be competitive with Vietnam and the Maldives and put our service sector back to work."
TTF 2022 was hosted in compliance with all necessary health and safety regulations. The host venue, Conrad Bangkok, is SHA+ certified and all attendees had to show proof of two vaccinations.