Big is beautiful. Just ask the participants flocking to Seoul for incentives and conferences – with the city handling a number of blockbuster business events.
Take the 6,000-strong Aolan International Beauty Group from China, who gathered in Incheon early this year. Or the 8,000 delegates from Zhongmai Health Group, also from China, on an incentive trip hosted in Seoul, who enjoyed a record-breaking chicken dinner.
Some 6,000 Rotarians from 160 countries, many dressed in the traditional costume of their home nations, also gathered in the capital in May to begin the 2016 Rotary International Seoul Convention's first official event – the 3km Walk for Peace.
Here are some of the venues in Seoul catering to groups large and small.
Hangang Park
In May this year, Seoul hosted its largest incentive group to date when it welcomed the 8,000 participants from Joy Main Science & Technology, the healthcare unit of the China-based Zhongmai Group, for a week-long visit.
Seoul Metropolitan Government, Seoul Tourism Organisation and other organisations arranged a special dinner and concert for the group at Hangang Park by the Han River with a backdrop of the Banpo Bridge, which has the distinction of being recognised by the Guinness Book of World Records as the world's longest fountain bridge.
The chicken dinner idea came from an association of Korean poultry suppliers who wanted to make inroads into the Chinese market. The meal included samgyetang – ginseng chicken soup – a local favourite made famous by the Korean television series Descendants of the Sun.
Entertainment included a concert by K.Will and Gummy, who feature on the drama's soundtrack, as well as traditional games.
Coex Convention and Exhibition Centre
To better serve groups from Southeast Asia and the Indian subcontinent, Coex has opened a Muslim prayer room. The CALT City Airport Terminal in the Coex complex provides easy access to Incheon and Gimpo airports. It offers check-in and bag drop services for 17 international airlines including Korean Air, Delta Air Lines and Air France. Entertainment choices can be found in the Coex infrastructure. The SM Tower is a musical theatre offering 808 seats for K-Pop fans; Seven Luck Casino is open for those who fancy their chances; the Coex Aquarium is a home for
650 species with 40,000 sea creatures; and Coex Mall is the largest underground mall in Asia, reopened in December 2014.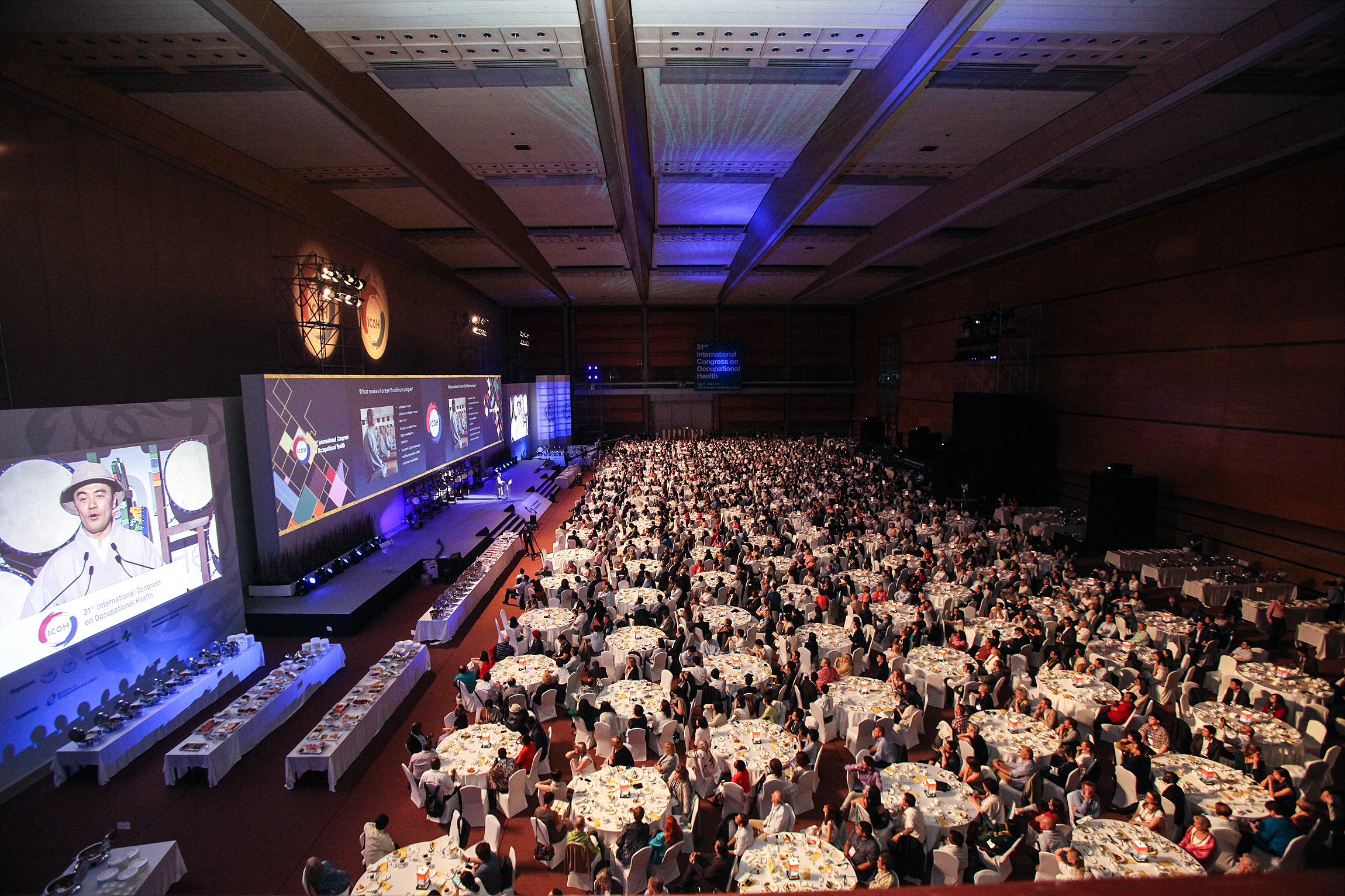 Some Sevit – Floating Islands
Allianz Insurance Taiwan held a gala dinner here for 750 participants last December using the hall and reception space. Entertainment included traditional Korean music, a drum show and a pop concert featuring Korean bands and Taiwanese singers.
The Some Sevit complex consists of three linked islets on the banks of the Han River, at Hangang Park. Highlights include event halls, a marina and European-style bars and restaurants.
"We chose this venue because it is a remarkable building. It has been featured in magazines and international movies have been filmed here. It can really represent modern South Korea for our groups," says an Allianz Insurance Taiwan spokesman.
Google Japan held a two-day event on Some Sevit last October for about 800 employees from Japan and South Korea along with guests for a product launch conference and party.
The Google logo was beamed on to the surface of the main venue and Google Japan used every level for the event. A buffet was set up in the fourth-level garden for an evening function.
Google Japan organisers decided to hold the event on the floating island before their site inspection was even finished. "Google is an innovative company. When compared with venues at hotels, the floating island can give more innovative ideas to us about how we hold an event. We quickly made up our mind to organise here after only 10 minutes during our site visit," a Google Japan event spokesman told Some Sevit management.
AW Convention Centre
A three-floor-high artificial waterfall next to the AW centre gives its Ajelia Hall and Iris Hall a dramatic backdrop for events. Ajelia holds up to 120 people and Iris 50.
Developers Yongsan held an event for 700 in the ballroom as part of a corporate meeting, exhibition and presentations. China Eastern Airlines also hosted 400 travel company chief executives from China for dinner here in April.
Seoul Museum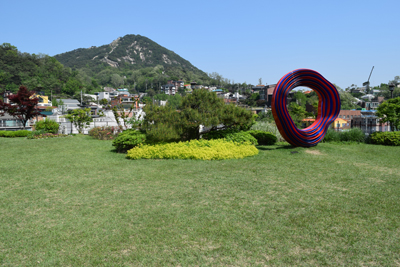 This private museum opened in 2012 and, up a slope in the museum gardens, is the Neoreok Bawi Broad-Flat Rock, which looks out to event space. Honda drove display cars directly into this area and hosted an open-air dinner for 250 guests at 25 banquet tables. The gardens feature fine examples of Hanok architecture and the building was once the residence of Yi Haeung, father of King Gojong, in the late 19th century. The house is not open to public, but planners can still request access to arrange events, such as private dinners.
Raum
The fashionable district of Gangnam features Raum, which was built in 2011. The interiors are inspired by Scotland's Skibo Castle and it opened as an arts and cultural venue and to promote networking.
Delegates enter into spaces with treed gardens, water and natural light filling the meeting venues.
In April, one of Korea's largest conglomerates, Hanwha, held a product launch in the Gallery Hall. The event that featured a reception at the Pond Garden and about 120 guests including company CEOs and officials attended.
Hanwha's organisers said they would choose Raum again for events. "Castle and garden parties and private banquets are held in a sacred mood unique to Raum, which resembles an ancient European castle. We will conduct similar events in the future," said a Hanwha organiser.
But the tone can also be less sacred. In May, beer brand Corona had the Majestic Ballroom and gardens converted into a nightclub-style setting and invited 2,000 guests for a party and private banquets.
Hotel highlights
Grand Hyatt Seoul – The Grand Ballroom and Regency Room are becoming popular for auto events, as vehicles can access directly from the ground level. Event guests can also do test drives around the hills of Namsan behind the hotel.
Four Seasons Seoul – This high-end addition to the city opened in September last year in Gwanghwamun, near the palaces. The hotel offers 2,196 sqm of event space, with functions having ranged from red-carpet galas to corporate conferences.
L7 Myeongdong – Lotte opened this lifestyle hotel in January this year. The highlight is the rooftop space, which has an indoor bar, outdoor seating area and a foot spa. The foot spa has the landmark N Seoul Tower as the background and can accommodate 13 guests. The whole floor is available for hire.
Restaurant updates
Poom – Located on Namsan mountain, Poom serves traditional royal cuisine in a modern way. It offers
great views of the Huamdong neighbourhood and has private dining rooms for groups up to 20 people. Delegates can enjoy the famous hangjeongsal-gal (leafy vegetables with grill pork) and ssam (assorted seafood cold soup).
Dosa – Chef Back used his training in Japanese and French cuisine to establish himself as a top chef in the US. Dosa opened in May with Back Seung Wook bringing his modern Korean cuisine from the US to his home town. Private dining guests can try signature dishes such as the tuna mushroom pizza and Seoul Garden (a new-style bibimbap).
Excursions
Pedicab – L7 Myeongdong provides this service to let groups enjoy tours area near the hotel. A group of 18 managers from Yecheon Women Cultural Centre chose a three-hour Bukchon excursion earlier this year, visiting destinations including Bokchon Hanok village and Insadong. "Pedicabs are not common in Korea, so it made a very special experience," a Yecheon Women Cultural Centre spokeswoman said.
Bukchon Hanok Village – This is home to hundreds of Hanok dwellings from the Joseon dynasty. Many operate as cultural venues, restaurants and teahouses, giving groups an opportunity to experience the Korean traditional culture.