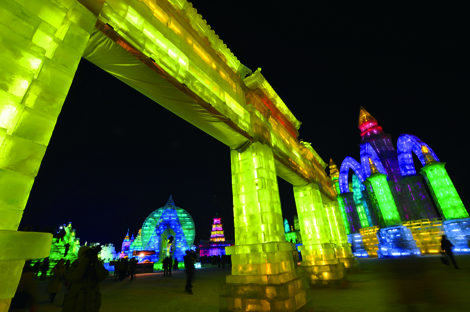 In short, creative meetings planners are increasingly looking beyond the bright lights of the capital and glitzy Shanghai when eyeing up China. Some are peering over the Great Wall and to the mysterious north of the country.
Cities such as Harbin, Shenyang and Dalian in the huge landmass that was once called Manchuria (and which the Chinese refer to as the Dongbei – "east-north" – region), as well as the pleasant seaside locale of Qingdao (which, admittedly, lies southeast of Beijing, but is still considered a northern metropolis), now boast an abundance of luxury hotels of international standard and growing business-events facilities.
With unique cultural, natural, sporting and entertainment attractions added to the mix, Beijing could be facing real competition from its northern neighbours.
HARBIN – Cool & Cosmopolitan
Intriguing Harbin, with its delightful Russian architecture and internationally acclaimed International Ice & Snow Sculpture Festival which is held every winter, is the capital and largest city of Heilongjiang province (Harbin's urban population hovers at just under 6 million inhabitants). It is also the northernmost major metropolis in the entire Middle Kingdom.
Largely coming into its own at the close of the 19th century, with the completion of the Trans-Manchurian Railway, Harbin prospered greatly due to a huge influx of immigrants from the Russian Empire, and to this day the town plays an important role in Sino-Russian trade.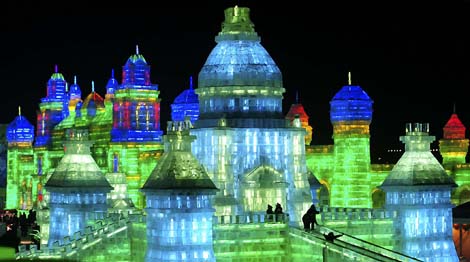 The city also prides itself on its colourful history as a sophisticated entrepôt hungrily gobbling up international influences. In the 1920s, forward-thinking Harbin was China's fashion capital – new designs from Paris reached there even before landing in the glitzy department stores of Shanghai.
Opening in 1999 as the first truly international luxury hotel in the area, the Harbin Shangri-La has since been a popular choice for meetings, conferences and events in the region.
The property's elegant, 1,147 sqm Grand Ballroom, with its dramatic chandeliers and understated European vibe, can accommodate 1,000 guests theatre-style and close to 800 in classroom-style or for banquets. The state-of-the-art venue features all the best audio-visual bells and whistles, including a useful simultaneous-translation system.
For more intimate gatherings, the Harbin Shangri-La boasts 11 function rooms that vary in size from 34 to 78 sqm. The spaces are named after Chinese cities (Shanghai, Wuhan, Shenzhen, etc) and can accommodate up to 60 people for receptions, and 40 for dining events.
A new Shangri-La Songbei Hotel, Harbin is due to open in 2015. Plans suggest the property will offer the most extensive selection of spacious business-events venues of any hotel in the city, and set a new benchmark for events in Heilongjiang.
With 322 rooms and suites, an indoor pool and award-winning restaurants serving Chinese, Japanese and European fare, the inviting five-star Sofitel Wanda Harbin is conveniently located in the heart of Harbin's business district and within walking distance of the commercial centre and the Zhongyang Dajie pedestrian street.
The hotel boasts seven meetings venues catering for up to 708 people. A highlight is the 630 sqm, pillar-free Champs Elysees Ballroom that is illuminated by Chinese-inspired chandeliers and which can be divided into three sections. A private entrance and car park is available for easy access while facilities include wall-mounted screens, ceiling-mounted LCD projectors and other multi-media solutions.
Though not as luxurious as some other more modern properties, the Holiday Inn Harbin-City Centre is – as its name suggests – located in the heart of the city and just
3km from the Nangang commercial district. The hotel's most spacious meetings venue, the auspiciously named Dragon Hall, can cater to 160 people for receptions and 80 for a seated banquet.
DALIAN –A SAFE HARBOUR
The flourishing seaport of Dalian in Liaoning province is a major financial, shipping and logistics centre for all of northeast Asia. The city has a significant history of being exploited by foreign powers for its ice-free ports, and consequently the historic downtown area is littered with ornate, colonial-era buildings, mostly in Russian and Japanese styles, and constructed during the late 19th century.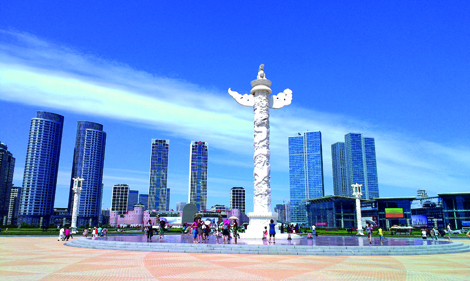 With a relatively small population for a major Chinese metropolis (the urban area is home to fewer than 6 million inhabitants), Dalian is routinely voted one of the most liveable cities in the entire country and, largely thanks to its picturesque beaches, is also a popular holiday destination for domestic tourists, as well as with visitors from Russia, South Korea and Japan.
Unsurprisingly then, the city has more than its fair share of international-standard accommodation options, and many of the best feature business meetings facilities on par with luxury hotels in Beijing and Shanghai.
The Shangri-La Hotel, Dalian, for instance, features a 1,664 sqm column-free Grand Ballroom (the biggest such facility in the city) that can hold more than 1,800 guests for receptions, 1,600 theatre-style and 1,200 for banquets. The ballroom boasts an enormous LED screen measuring nine by four metres.
For less ambitious gatherings and greater flexibility, the hotel's 15 tastefully decorated function rooms – measuring between 41 to 152 sqm in area – can be used individually as event venues or linked together when a larger space is required.
With some 400 spacious guest rooms and suites located across its Grand and Park wings, Kempinski Hotel Dalian is located in the heart of the business district, adjacent to the city's landmark Labour Park and just a few steps away from luxury shopping centres. Its substantial meetings venues spread over 1,300 sqm.
Decorated with distinctive red-crystal chandeliers, the luxurious Grand Ballroom (504 sqm) is the largest and accommodates 320 for banquets, 500 for cocktails and 240 in a classroom. Ten small function rooms, all named after European cities, can accommodate between 24 (the Geneva space) and 84 (dubbed for Hamburg) theatre-style.
Sophisticated Conrad Dalian's 588 sqm ballroom, meanwhile, caters for 200 in classroom, 380 in banquet and 580 in reception arrangements, and is divisible into two flexible sections with four breakout areas. Four additional, colour-coded meeting rooms – Gold, Teal, Vermillion and White – are ideal for smaller gatherings (suitable for 30 to 70 in classroom, and 70 to 150 theatre-style).
Finally, Furama Hotel Dalian – which was the first five-star hotel in all of northeast China when it opened its doors in 1988 – has long been popular with the domestic market and therefore has many years of experience in hosting large meetings, conferences and banquets.
Its 1,372 sqm Grand Ballroom is regularly in demand as a venue for performances, exhibitions and conferences and can be divided into two parts (457 and 915 sqm,
or 686 and 686 sqm), while the smaller but also grandiose Tian Bo Fu Ballroom (476 sqm) has previously been employed by the likes of APEC, the WTO and the 2007 and 2009 Summer Davos Forums.
PHOTO-OP – Zhongshan Square
Though 21st century Dalian boasts a cloud-busting cityscape of mirrored glass, concrete and steel, the city has also preserved a great deal of its architectural heritage, right down to antique Russian post boxes that have graced streets for more than a century. Imperial Japan also left its mark here. The two colonial powers vied aggressively for the city – the first ice-free port south of Vladivostok – in the late 19th century. Their influence can be best appreciated in Zhongshan Square, which is surrounded by ornate stone municipal buildings in a variety of architectural styles, including baroque, neoclassical and Gothic.
SHENYANG – FROM RUST TO RENAISSANCE
The premier metropolis of Liaoning province, and the largest city in all of Dongbei (urban population of 7 million), Shenyang is a strategic transportation hub for northeastern China, as well as Russian Siberia, Japan and the Korean Peninsula.
Formerly a colossus of heavy industry, Shenyang's fortunes declined during China's economic reforms of the early 1980s, and the city was notorious as the "capital" of China's decaying rust belt. State-run initiatives and a flood of investment have since sparked a commercial renaissance, with industries such as aerospace, machine tools, software, automotive, electronics and finance making Shenyang their home today.
Shenyang was briefly the capital of the Qing Dynasty in the early 17th century. The Shenyang Imperial Palace and its grounds – a UNESCO World Heritage site – are a key attraction and lauded as China's "Second Forbidden City".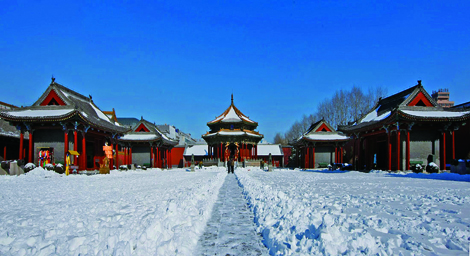 The Imperial Palace was the seat of the ambitious Manchu Empire in the early 17th century, and Emperor Shunchih was crowned here before storming the Great Wall and marching south to successfully ransack Beijing in 1644. Work commenced on the massive compound in 1626, and when finished it encompassed 90 splendid buildings. The impressive Cong Zhen Dian is a wood-panelled hall where the emperor kick-started the Qing Dynasty.
Located on the edge of the city's 330-hectare Beiling Park – a relaxing urban escape of historic buildings, pine trees and lakes – and just a 10-minute drive from Shenyang's city centre, the glass towers of Crowne Plaza Shenyang Parkview form another city landmark.
With nine meeting rooms and a total of 1,600 sqm catering for gatherings of up to 1,300 people, the hotel's largest venue is its 822 sqm ballroom, while the most intimate is the 48 sqm Milano Room. All meeting rooms have natural light and the property has a dedicated Crowne Meetings Director.
Superbly located close to Shenyang's TV Tower and overlooking the gardens and lakes of Qing Nian Park, the central location of the Kempinski Hotel Shenyang and its professional meetings and banquet team make it appealing to the meeting planner.
The largest function venue on site is the 640 sqm Ballroom, with room for up to 500 guests in theatre or cocktail-reception modes. The elegantly appointed Beijing Room can accommodate 100 banquet diners, while the more modest VIP Room is ideal for board meetings of up to 24.
The 590-room (including 193 suites) Sofitel Shenyang Lido is another favoured business meetings choice in Shenyang, and its InspiredMeetings planning team can offer expert advice and support related to six venues, the largest being the airy, 768 sqm Lido Ballroom that can hold up to 600 guests theatre-style. Another ballroom – the Grand Ballroom – has a footprint of 512 sqm, while a selection of other venues vary in size from 80 to 136 sqm.
The Traders Hotel, Shenyang, located in the heart of Shanghai and within strolling distance of the railway station and shopping and dining options, offers 11 fully equipped rooms providing the privacy, flexibility and convenience for a variety of meetings of every size and stripe.