CHIANG MAI in Thailand will host Routes Asia 2023 when regional airline executives will gather to discuss their industry's future in an event also set to put the northern city on the international conference map.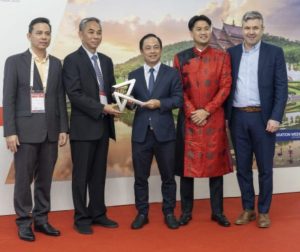 Speaking as the event's 2022 conference came to an end in Danang, Vietnam, this week, Routes director Steven Small said: "Substantial and continuous infrastructure development, together with state-of-the-art conference facilities, have positioned Chiang Mai as a premier MICE centre destination, making it the perfect location for Routes Asia 2023.
"The event will provide a unique opportunity for the city to showcase the significant infrastructure developments to the region's leading aviation stakeholders."
Chiang Mai saw almost 74,041 flights and more than 9.98 million passengers in 2017, according to Routes Asia figures. The city's international airport serves as a gateway to the scenic beauty and culture of northern Thailand with Chiang Mai designated by Thailand Convention and Exhibition Bureau as an important business events destination.
The region also attracted nearly 10 million visitors per annum in pre-pandemic years.
Routes Asia 2023 is scheduled to run from February 14-14