A SARAWAK-BORN musician and artist with Borneo-tribal and Anglo-Italian heritage is the keynote speaker for the Asia Pacific Regional Hub of the ICCA Congress 2020.
Alena Murang, who hails from the Dayak Kelabit people, will speak on Sarawak Tribal Wisdom to inspire delegates to learn about tribal values and find ways of applying them to the business world.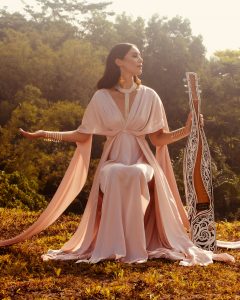 Murang, who has performed at festivals across the world, is the first female professional sapeh player and teacher. The sapeh is a traditional Borneo lute.
She learned about traditional dance and song growing up in Kuching and draws influence from rock and folk music. Murang has also been featured in documentaries and is a motivational speaker for events such as TEDxKL.
Audiences are encouraged to make cultural heritage and its value of togetherness as well as caring for the earth relevant to today's urban world.
Hii Chang Kee, of the Ministry of Tourism, Arts and Culture Sarawak and local host committee state chairman of the congress, said the state wanted to focus on the educational legacy of conventions instead of a tourism impact.
"Having Alena as a speaker will be a great metaphor on how Sarawak will progress with its true tribal values which is unity, community and creating a unique and strong identity for the business events sector,' said Hii.
More… Sarawak rises as ICCA Asia Pacific hub
Amelia Roziman, acting CEO of Business Events Sarawak, which is the local host for the ICCA Congress' hub, said: "Through this congress, we want to share what Sarawak is truly made of, which is our people and their rich and diverse history.
"This is in line with our congress theme Tribe Legacy ICCA that aims to empower our home-grown talent for community development through the long-term legacies left behind from congress events such as ICCA," Roziman said.
The Malaysia Borneo state of Sarawak was selected as the Asia Pacific Regional Hub for the 59th ICCA Congress 2020. The hybrid regional hub congress will take place on-site at the Borneo Convention Centre Kuching with various live-streamed programmes from ICCA's world congress in Kaohsiung, Taiwan, November 1–4.
Any views on this story? Share them in the reply box  below…