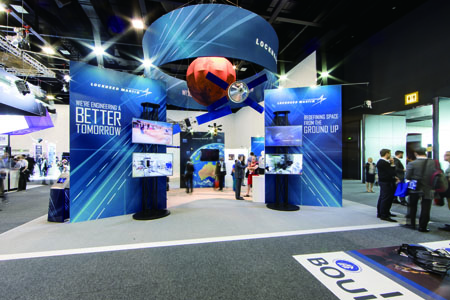 The 68th International Astronautical Congress (IAC) is not only Adelaide's largest business event to date, but also a pivotal one for Australia's space and satellite industries.
One of the highlights was a keynote address by billionaire tech entrepreneur Elon Musk, the CEO of SpaceX.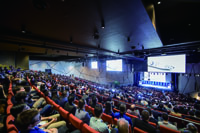 Musk, one of the engineers behind the Tesla vehicles, gave a presentation on "Making Humans a Multi-Planetary Species" to a packed auditorium at Adelaide Convention Centre.
He revealed plans to build a base on the moon and further outlined his ambitions for a city on Mars as part of his vision for affordable space travel and colonisation of the red planet. The congress, attended by 4,470 delegates from 71 countries and regions, also heard announcements by state and federal governments to establish a space industry centre in South Australia and a national space agency.
Adelaide Convention Bureau says the space industry is worth about A$400 million and the conference itself had an estimated economic impact of A$24 million for South Australia and created the equivalent of 229 jobs.
Deals and partnership agreements were also signed between Australian and international space technology companies, including Adelaide startup Fleet teaming up with French space agency CNES for nanosatellite tracking.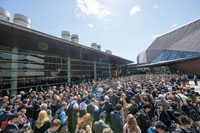 Beyond newly expanded Adelaide Convention Centre, where the congress was held, more than A$1.2m was spent on regional and city sightseeing tours, including sold-out tours of the Adelaide Hills, Barossa, Victor Harbour, Kangaroo Island and the Murray River. "This amazing event is the epitome of what hosting conferences is all about," said Damien Kitto, CEO of Adelaide Convention Bureau.
"The IAC absolutely captivated the city and, in addition to the immediate benefit of the large economic benefit for tourism operators, it is the value of the incredible legacies that come into play well after the last delegate has returned home that truly highlight the importance of winning these large-scale industry events for South Australia.
"With the capacity to host events of this size, the bureau looks forward to winning many more large-scale events to Adelaide," said Kitto.
Michael Davis, chair of the Space Industry Association of Australia, worked with the convention bureau to hold the event in Adelaide, said, "The event has been universally judged as one of the most successful ever."
Adelaide-based PCO All Occasions Group worked with the International Astronautical Congress both in Australia and overseas over a three-year period to organise the congress.The PCO's director, Anne-Marie Quinn, says: "All Occasions Group has managed conferences across the globe in some incredible destinations, but nothing in the history of the company compares with being the official conference organiser of the 2017 IAC – particularly with it being in our hometown."