Shanghai and Hong Kong are being overshadowed on the MICE front by the likes of Sydney and Kuala Lumpur, according to survey findings by American Express Meetings and Events.
The company's 2017 Global Meetings and Events Forecast, which includes a ranking of Asia's top 10 MICE cities for the year ahead, puts Sydney and Kuala Lumpur as the second and third most active meeting destinations in Asia, replacing Shanghai and Hong Kong.
The findings are based on survey responses to expected meetings and events budgets, economic outlook, budgets and business sentiment in key MICE destinations across the region.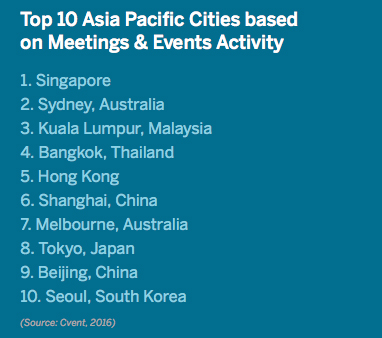 Results breakdown
Singapore retains the top spot, while 2016's second and third, Hong Kong and Shanghai, have been eclipsed by Sydney (previously fifth) and Kuala Lumpur.
Bangkok climbs up four places, while Tokyo (previously sixth) and Beijing (previous fourth) slip down the chart.
Seoul is back in the forecast's top 10, while Bali and Taipei (2016's ninth and 10th) tumble out of the top 10.
The full report can be downloaded here.