A conference centre's purpose is to provide users with fantastic meeting facilities.
Except for the onsite utilities for delegates, planners should also consider the venue's location, size of the facility and any unique aspects that may surprise.
Here are three exciting convention centres that are opening in the not-too-distant future that could be ideal for planners thinking long term.
International Convention Centre Sydney
The new international convention and exhibition centre in Sydney will replace the existing 25 year old facility, scheduled to close its doors this year. The current venue's key limitation is its lack of versatile event space which makes hosting simultaneous events difficult. Opening in 2016 and on the site of the existing structure, the new building will feature a diverse range of convention, exhibition and entertainment spaces. It will allow the city to host multiple mega events simultaneously.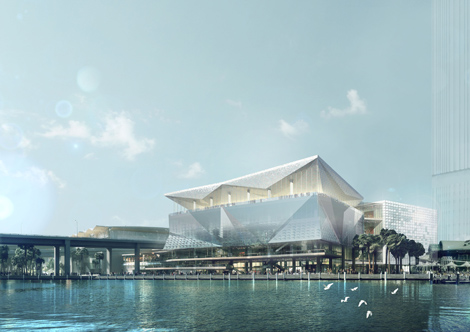 Credited to HASSELL + Populous
When to open?
The existing Sydney convention and exhibition centre will end operations in December this year. The new building is estimated to be open in late 2016.
Facilities and size:
Exhibition space – Total area of 40,000sqm, equivalent to five football fields, consisting of 35,000sqm of fixed space and 5,000sqm of flexible space.
Meeting rooms – More than 40 rooms, presenting planners with a total of 8,000sqm of space.
Convention hall – Able to accommodate more than 12,000 people over four different areas, this room allows multiple events to take place at the same time.
Ballroom – At least 2,000 people can participate in any event held here.
Public domain – This outdoor event space can hold up to 25,000 people.
Surprises:
In the complex, planners will find a hotel with 900 guestrooms. Around the site, pedestrian connections will also be improved, drawing people in from Central Sydney, Chinatown, Coockle Bay Wharf, Ultimo and Pyrmont.
Chengdu New Century Global Centre
This centre is partly complete. Once finished, it will be a huge complex and one of the world's largest buildings. The first phase of constuction is already completed and includes a central plaza, central park, shopping mall, car park, artificial beach, hotels, restaurants, business centre and offices. The second phase will include a car park, business centre and offices. The business centre and the New Century Contemporary Art Centre will be also be located in the second phase of the complex, providing more offices and meeting rooms.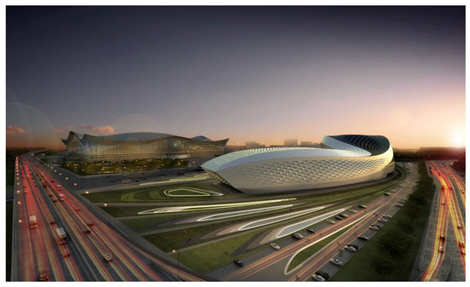 When to open?
The global centre will open later this month. Meeting facilities in the business centre and the art centre will be open in September once the construction is fully completed.
Facilities and size:
The building occupies 800,000sqm and includes a number of high-tech conference rooms. Although not yet complete, if you want to hold a meeting very soon, you can consider the conference facilities at the Intercontinental Hotel, which is already open and located within the complex. The entire property will be open in September.
New Century contemporary art centre is another choice for conferences and exhibitions. It is one of the largest and most advanced cultural building in western China.
International convention centre – More than 10,000sqm is available with 8,000sqm dedicated to a multi-function ballroom.
Display hall – 12,000sqm of space is available here.
Theatre – The grand theatre can hold 2,000 people whilst a smaller facility offers 1,000 seats for guests.
Surprises:
The global centre also has some entertainment facilities which means you can immediately grab a refresher after the conference.
Paradise Ocean Park – An indoor facility, covering 250,000sqm of space, the park consists of 5,000sqm artificial beach, a 150m x 40m LED screen at the end of the 'ocean', a floating stage with singing and dancing performances, artificial wave machine, a water castle and a long water slide.
http://www.hzdccd.com/main1.html
Oman Convention & Exhibition Centre
The Oman Convention & Exhibition Centre will be built next to the Muscat International Airport, and will be situated within a purpose built, fully integrated business precinct that has been designed to accommodate world congresses, exhibitions, regional meetings, gala events, performances and concerts. The functional and flexible design ensures a wide array of meeting and exhibition spaces. The very latest communications and audio-visual technology will be included in order to meet the demands of the most discerning global event organisers.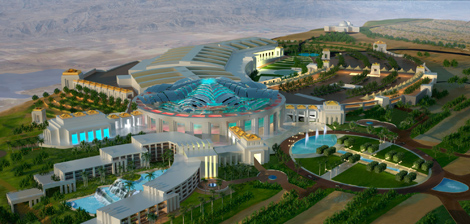 When to open?
The centre will be completed by 2015.
Facilities and size:
There are various kinds of facilities for meeting organisers to choose from.
Meeting room – Designed to meet the demands of global conference organisers, 14 meeting rooms ranging from 61sqm to 320sqm are available and can hold up to 360 people.
Ballroom – The venue offers the flexibility to host meetings, seminars or gala banquets both small and large. The grand ballroom has a maximum area of 2,100sqm, whilst the junior ballroom sizes range from 448sqm to 896sqm.
Exhibition hall – Providing more than 22,000sqm of column-free space, the exhibition hall can be divided into five separate areas. The facilities also offer specialised acoustic treatment, advanced lighting and rigging requirements in order to act as a multi-purpose space.
Surprises:
The centre is conveniently located just ten minutes from the new Muscat International Airport.
If you want to catch your breath during the meeting, you can always take in the views of the Wadi. This waterway and natural reserve is home to a wide variety of Oman's exotic birdlife.
Valerian Ho