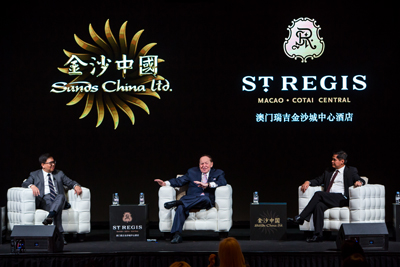 Meetings, incentives and events will benefit strongly when the bridge being built to link Macau with Hong Kong opens, says the boss of Sands China.
Sheldon Adelson (above, centre), chairman and chief executive of Las Vegas Sands, which owns Sands China, says the 29.6km bridge will be a "big boost" to the region's MICE industry.
Adelson, speaking at the opening of the St Regis Macao, the 400-room luxury hotel that has joined Sands China's properties along the Cotai Strip, also said that the decline in visitor numbers along with casino revenue over the past year was cyclical and expected an upturn in 2016.
"We have been working since day one to make Macau a true MICE destination and the bridge will be a big boost when it is completed," said Adelson. "Macau will be getting a second airport in the form of Hong Kong International Airport on Lantau linked by the Macau bridge. The bridge is the catalyst for growth."
The completion date for the sea bridge has been put back to late 2017 following geotechnical problems on the Hong Kong side. AsiaWorld-Expo, alongside Hong Kong International Airport, and a new convention centre in Zhuhai have already teamed up for a marketing campaign aimed at using both facilities for joint events.
Adelson expressed confidence that Macau's non-gaming business will increase, particularly meetings and incentive travel, thanks to developments in Cotai, an area formed through land reclamation that linked the islands of Coloane and Taipa. "We are the originators of the complexes known as integrated resorts and the entertainment product they have. Non-gaming elements come in that supply," he said.
The variety of hotels along Cotai Strip, ranging from the Venetian and Holiday Inn to the Four Seasons and the new St Regis combined with shows, dining and shops would continue attract leisure and business event travellers, Adelson said. These would be linked by moving sidewalks and air-conditioned bridges to help ensure visitors can use each Sands property. He added that replicas of landmarks in Venice and the forthcoming version of the Eiffel Tower outside the Parisean hotel, due to open in 2017, played an important role in attracting Chinese visitors.
One of the new Sands products will be Planet J, a "live action role-play theme park" due to open in 2016. The life size computer-based virtual game park will come as Sands' competitors on Cotai raise their hotel and entertainment offerings, mainly in the form of Melco's Studio City and Galaxy's opening of a JW Marriott, Ritz-Carlton and Broadway Macau shopping area.
Adelson said he was a "firm believer" in cyclical trends in business and saw Macau as "at the bottom or near the bottom" of a downturn. "Nothing goes down in a straight line forever – just as nothing goes up in a straight line forever.
"I think the economy and Macau's fortunes will turn around. I think we are either at the bottom or near the bottom and I think it will turn around in the near future – certainly within 2016."
Macau has seen gaming revenue decline over the past year with analysts linking this to Chinese President Xi Jinping's crackdown on corruption and lavish spending along with visa restrictions.
For more on Macau's growth, see here.