Korea has recently secured a series of high-profile bids for events up until 2024, including many scientific conferences.
The 28th International Congress of the Transplantation Society is expected to draw 5,000 delegates to the Coex Convention and Exhibition Centre in 2020.
In 2024, the 37th International Geological Congress is due to welcome 6,000 participants, including 5,000 from overseas.
Also taking place that year, the World Biomaterials Congress is set to draw 3,500 participants, including 3,000 international delegates.
The bidding success comes off the back of a very successful 2016. Highlights include:
Korea MICE Alliance Conference & Awards 2016
Prominent figures in Korea's business events industry took centre stage at the 2016 Korea MICE Alliance Conference & Awards, with wins from Seoul MICE Alliance, Grand Hilton Seoul and The Weina Cosmetics among others.
Read more: Seoul alliance strengthens ranks with new members
Around 200 delegates attended the gathering, which took place December 6-7 at HICO (Gyeongju Hwabaek International Convention Center), featuring talks by the Korean Ministry of Culture, Sports, and Tourism on the future of the meetings industry and two forums on "MICE Policy" and "Regional MICE Development".
The full list of awards winners is as follows:
Best Bid Win: 2024 International Geological Congress
Best Event Operation: 2016 Rotary International Convention Organizing Committee
Individual Award for Academics: Han Seonghyeop (Hanyang University)
Individual Award for Service: Kim Seungmi (Insession)
MICE Alliance Award: Seoul MICE Alliance
MICE Supporters Award: Jeju MICE Supporters / Gwanju MICE Supporters / Gyeonggi MICE Supporters
Convention Hotel: Grand Hilton Seoul
Corporate/Incentive Travel Bid Support Award: The Weina Cosmetics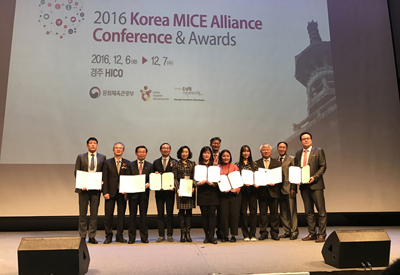 Korea steals number two spot on UIA's Global Meetings Ranking
The latest Union of International Association's (UIA) International Meetings Statistic Report ranks Korea second globally for number of international congresses held in 2015.
The country hosted 891 global conferences in total, a 40 per cent increase on the previous year, putting it behind the USA in the chart.
Read the full MIX story: Korea No.2 behind United States in UIA rankings
Seoul also improved its long-standing top-5 UIA city ranking, moving from 5th to 3rdplace with 494 meetings held in 2015.
Meanwhile, Busan, Korea's second-largest city, achieved a global city ranking of 11 with 150 meetings.
Read more: Busan gears up for international events ahead of 2030 Expo
Korea draws 25,000 international disitors for mega Rotary convention
May saw Korea host one of its largest events of the year – the 2016 Rotary International Convention – welcoming a total 50,000 attendees, half of which were from overseas.
The event, which took place at Korea International Exhibition & Convention Center (Kintex) from May 28 – June 1, featured on-site programmes as well as a 3K Peace Walk through downtown Seoul and tours of Korea's capital and beyond.
Read more: Rotary International Seoul Convention kicks off with a 3km Walk for Peace