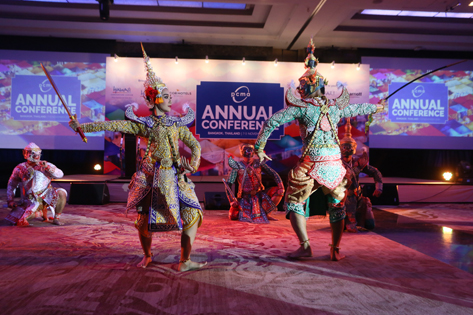 PCMA has shed its shared title with the now non-existent Incentive Conference and Events Society Asia-Pacific by stepping up its presence in the region with a series of education sessions and an annual conference in Macau.
The Chicago-headquartered Professional Convention Management Association purchased ICESAP in 2017, four years after it was founded by Nigel Gaunt. PCMA continued to share its branding with ICESAP until recently after Gaunt officially stood down in June 2018.
Now operating as PCMA, the organisation has announced it will "significantly increase" its Asia-Pacific presence in 2019 with Knowledge Exchange events organised in 13 cities and a regional conference at The Parisian, Macao, November 6-8.
Previous events in Hong Kong and Shanghai were held under the ICESAP banner before the branding was shared between PCMA-ICESAP.
More: PCMA acquires Nigel Gaunt's ICESAP
PCMA's regional base is in Singapore and the three-day conference in Macau also marks the first major event in North Asia without sharing branding with ICESAP.
The PCMA conference also comes in the wake of efforts by the Macau Incentive and Special Events Association to boost education and certification among local event and DMC practitioners. These have included events held with SITE (Society for Incentive Travel Excellence) and Iapco, the international, conference organisers association.
In a media announcement from the PCMA, Antonio Codinach, the association's regional business director for Asia Pacific, said the organisation was one of the global leaders in leaders in business events and dedicated to supporting the industry across the region.
"As a well-respected and longstanding provider of education and networking opportunities, PCMA understands the business events industry and the needs of professionals, corporations and destinations," Codinach said.
"Business travel in Asia-Pacific continues to grow and PCMA is uniquely positioned to help the region's meetings, incentives, conferences and exhibition industry meet demand."
The three-day PCMA APAC Annual Conference in Macau is billed as an education and networking event created for professionals in the growing Asia-Pacific MICE industry.
PCMA drafts in new leaders as Gaunt bows out
The annual event features industry leaders presenting sessions on event design, event experiences and differentiation, among other topics.
Ivy Chia, regional experience and events manager for Ericsson, said the 2018 event in Bangkok provided networking opportunities with "likeminded professionals where we shared experiences, discussed challenges, and explored new methods and concepts to improve event experience".
Raysolyn Natividad, international relations officer for the Cement Manufacturers Association of the Philippines, said the 2018 conference was a "great learning experience" for meetings and events professionals.
Knowledge Exchanges in 2019
PCMA has nearly tripled its Knowledge Exchange sessions in Asia Pacific by extending the invitation-only regional events to eight countries in 2019.
The free one-day education programmes feature industry figures leading discussions to spark innovation, connections and enhance learning. Previous Knowledge Exchanges have focused on event safety, crisis communication or leveraging technology to enhance engagement.
Who wins if Asia turns into MICE association battlefield?
Topics for 2019 will include the Halal customer in business events, event sustainability, talent acquisition and engagement, and tech/innovation.
The first Knowledge Exchange is scheduled for March 28 at the Shangri-La Hotel in Kuala Lumpur where participants will learn about the five key trends identified in the Future of Meetings and Events study supported by PCMA Foundation in collaboration with Marriott International.
Main image: Traditional Thai dance at the opening ceremony of the 2018 PCMA conference in Bangkok, which was organised with the now defunct ICESAP