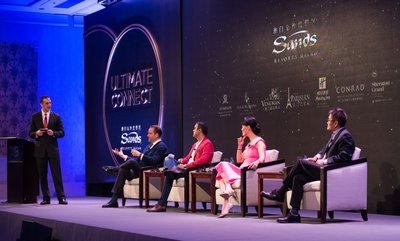 Cyber security and retaining qualified personnel will be key areas of concern for business events professionals in the year ahead, according to panellists speaking at the Ultimate Connect conference.
The Ultimate Connect conference was held at Sheraton Grand Macao Hotel, Cotai Central as part of Sands Resorts Macao's four-day Ultimate Download programme, highlighting meeting and incentive options on the Cotai Strip.
Panelists were Albert Guo Junhua, president for China CYTS MICE Service; Ping Ye, global general manager for Apac, Maritz Global Events; Sushil Shamlal Wadhwa, founder, chairman and managing director for Platinum World Group; and Edward Perotti, senior director global meetings – events & travel for Vmware. The session was moderated by Gene Capuano, senior VP of convention and exhibition operations for the Venetian, the Parisian and Conrad Macao.
Security
"When we talk about safety and security, it doesn't just mean act of fraud or act of terrorism," said Ye. "It's the growing threat of cyber-attacks on critical infrastructure. Risk management is something that weighs very heavily on the minds of many people in the industry.
"Big groups right now are focusing on the [idea of an] impenetrable security system," she added.
Ye referenced the formation of the EMSSI (Exhibitions Meetings Safety Security Initiative) in the US as an indication of how prevalent event security concerns have become.
Perotti, who is soon to bring 8,000 delegates to Macau, said security is at the forefront of his mind.
Read more about the Ultimate Download event
"No matter where you go, no matter what you do, something could happen and you need to be ready," he said. "That's our job. We have to be ready for every possible contingency.
"It kills me – here we are trying to create experiences, but all the time we're running around like parents looking after toddlers. They fall, and we're ready," he added.
Dual responsibility
But Perotti also stressed the onus on delegates to follow security procedures, especially where technology is concerned.
"When you look at safety and security, you need to take care," he said. "People have to follow the rules in place. I can enforce X, but if they don't hop on there's nothing I can do.
"We want to give delegates free reign. Our job is to get them there and get them home safely. What they do outside of that is up to them. If they don't use those tools, there's nothing we can do."
Manpower
Ye identified "workplace issues" as the second biggest trend for 2017.
"More and more companies in the United States and Europe are talking about workplace issues. Workplace issues means addressing the issue of qualified people working in this industry, because this is a people business. First and foremost, you need to have the right people."
"Most of these North American and European countries are talking about the dual bottom line – one is the financial bottom line; the other is the human bottom line."