CONCERN about inflation is prompting corporate travel managers in Asia to trim transport, accommodation and F&B costs where they can – but most respondents to research conducted by Cvent are optimistic that business travel will increase to pre-pandemic levels this year.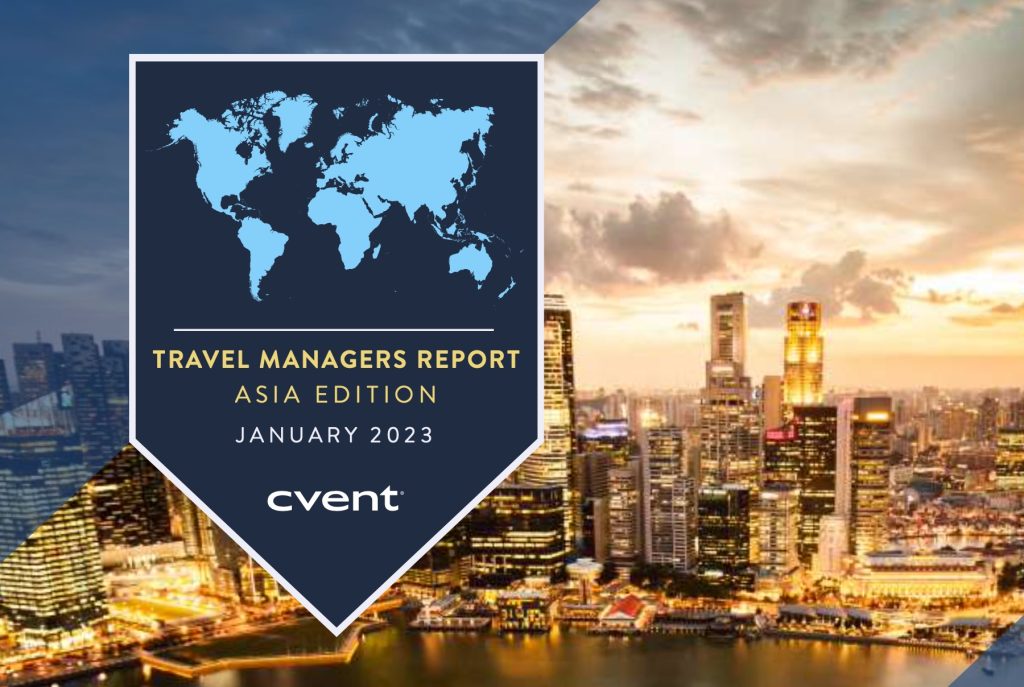 Sustainability is being prioritised with 92 per cent of travel managers surveyed in Asia and Australia citing the issue and report saying it is having a "direct impact on choice of venue".
"Organisations in many sectors are keen to demonstrate a commitment to sustainability – corporate travel is no different," the Asia edition of the latest Cvent Travel Managers Report, adding that it was vital that hotels and other venues cater to this demand.
Cvent, which provides technology for meetings, events and hospitality organisers, found that 82 per cent of respondents expect corporate travel volumes at their organisation to increase in 2023 relative to 2019 in Middle East and Africa, followed by 75 per cent in Australia and 74 per cent in Asia.
Organisations in Asia and Australia will see an increase in travel to Asia and Europe, according to the report's findings.
Cvent commissioned Censuswide, an independent research company, to survey 250 corporate-travel decision-makers in Singapore, China, Japan, Thailand and India, last November.
KEY CONCLUSIONS
– With three in 10 travel managers expecting business travel to grow significantly in 2023 compared to 2019, and a further 43 per cent believing it will increase to some extent, the opportunity for hotels is clear. Venue teams must ensure they are engaging now with travel managers – and be prepared to respond to an influx of RFPs.
– Transport fees will increase the most, according to more than half of them (52%). Meanwhile, 49% feel accommodation costs will account for the biggest cost increases, and 43% suggest insurance and safety will be subject to the highest price inflation.
– As a result of these predicted price rises – and despite bigger budgets per trip – travel managers are preparing to make savings in some areas. About a third of respondents (32%) are looking to cut transportation and accommodation costs – two areas which consume a large share of the travel budget.
– A further 29% suggest they will try to save the most money on F&B expenses for their corporate travellers. About 26% also intend to cut down the number of people at their organisation making business trips.
– At a time when hotel staffing levels have dropped, venues must find efficient ways to answer travel buyers' questions and deal with their demands. That means utilising technology that demonstrates an ability to understand and respond to travel managers' needs, while making the booking process.
"Travel buyers' detailed planning appears to have moved on from considering the post-Covid nuts and bolts of booking venues dominated by safety protocols," the report states. "At present, the focus is on the necessity of business travel as organisations must justify cost at a time of inflationary pressures.
"Once the decision is made, new factors come into play during the sourcing process. Hotels should pay heed to these changing priorities. With choice revolving around price, flexibility and sustainability, venues must demonstrate their value for every element to keep ahead of their competition."
More… Travel, events costs to rise: CWT & GBTA
Graham Pope, Cvent's vice president of international sales, said: "The results in this report illustrate that because corporate travel momentum has continued to grow and needs have evolved, hotels must understand their buyers' decision-making processes, preferences and budget expectations to attract them to their properties and stay ahead of the competition.
"The travel resurgence has also manifested higher expectations from the clients, with sustainability at the top of the list. With many hotels operating with smaller teams than pre-pandemic, this report offers critical insight into where hospitality professionals can focus their efforts and leverage technology to work more efficiently and maximise impact," he said.