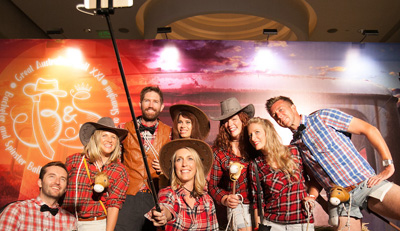 The value of live events in marketing, raising brand awareness or establishing a corporate message via a conference is steadily becoming more apparent to business leaders.
This has spurred the rise of  agencies ranging from live communications specialists operating globally, to more regionally based – but expanding – smaller operators. The list also includes medium-sized enterprises that have been making their mark in Asia over the past year and will be watched by competitors and clients alike in 2017.
This list and the comments that follow have been compiled by the Editor of MIX – Asia's creative meetings magazine based on reports we have published, interviews with event specialists and observations of what has been happening in the domain of live business events across the regions we cover. Any merit or ranking in the list is based on MIX's editorial assessment of who to look out for in 2017.
Martin Donovan – Editor, MIX
 Riviera
 Uniplan
 Imagination
 Shobiz Creative Communication, India
 Pico
 WRG Live
 Jiggee Events
 Jack Morton Worldwide
 CWT Meetings & Events
  MCI
 Showbiz Creations (Hong Kong)
 Factor168 Creative Event Company
 Luminous Experiential MSL Group
 George P Johnson
 Cievents
 x2 Creative
 FreemanXP
 K2 Asia
 Small World Experience
 Eventsman
 CWC Communications
 Nectar Creative Communications (Brisbane)
 Dreamweavers (Gold Coast)
 Play Communications (Sydney)
  DG Global (Perth)
EDITOR'S CHOICE
Riviera Events – Few event companies have enjoyed the remarkable growth that has seen Riviera building a presence in six Chinese cities. Stephane de Montgros and Benoit Thebaut founded the company in 2005, after resettling in China from their native France. Over the past five years they have grown the company from its original base in Shanghai to Beijing and major provincial cities.
After extending Riviera's coverage to Chengdu and Guangzhou, an office in Shenzhen opened recently and expansion into Macau is set to gather pace. Riviera's client list ranges from luxury hotels to Volkswagen, Perrier and Heineken. Recent events include the bi-annual Fizz & Baozi hospitality industry party, the opening of JW Marriott Hotel Chengdu, and The Great Australian Ball for AustCham Shanghai.
x2Creative – This youthful Hong Kong company has garnered a swathe of awards since being founded in 2011. In April 2016, x2Creative launched in Singapore with a branding and an event for accountancy firm Deloitte, which opened Deloitte University Asia Pacific.
K2 (China) – Cornering their own share of China's luxury market is another French-operated agency. K2 Asia's network extends to Seoul and Tokyo.
FreemanXP – 2016 saw the creative arm of Dallas-based Freeman absorb Staging Connections, which operated in Singapore as The Event Company. Freeman acquired the companies in  November 2015.
Shobiz Experiential Communications – Based in Mumbai and with a network across India, Shobiz is viewed as a pioneering live communications agency. With 30 years of experience, Shobiz worked with Nissan, Tata, Ford, SAP, and Siemens, among others.
WRG Live – UK-headquartered WRG acquired Hong Kong's Serious Events in 2012 and subsequently gained a base for entry into the China and Asia markets. Serious then rebranded to WRG Live the following year. Since then WRG's verve for outdoor events has seen an Adidas Sportsbase at Central Habourfront and Swire's Symphony Under the Stars.
Imagination – With 30 years behind it, Imagination is a global leader with headquarters in London. The company's Apac offices span Hong Kong, Shanghai, Singapore, Sydney, and Tokyo. One of Imagination's biggest projects was as the creative team behind the Sydney New Years Eve spectacular four years running (2010-2014), which used the Sydney Harbour Bridge, Opera House and Circular Quay as centre stage. Other portfolio standouts include the Royal Australian Navy Fleet Review spectacular in 2013, billed as one of the biggest events in Sydney since the 2000 Olympics, and the Audi third generation TT on Hong Kong's Central Harbourfront.
Uniplan – Germany-headquartered Uniplan is blazing a trail in live business events in north Asia with a penchant for cutting-edge visual technology and a presence in key markets, from Hong Kong and Macau to Shanghai and Guangzhou. Recent events have included The Parisian Macao gala and auto-brand immersions. It also manages one of the most important venues to open recently in Taiwan, Kaohsiung Exhibition Centre.
Luminous Experiential MSLGroup – Luminous Experiential marked its tenth anniversary in 2015 and is now part of Publicis Group's MSL Group with a network of 35 offices across Asia.
CWT Meetings & Events – Leadership revamps over the past couple of years have seen a renewed focus on meeting demand in China with CWT positioning homegrown talent to work with international clients. The growing role of strategic meetings management is helping drive growth.
Pico Group – A 42-year history has seen Pico grow from exhibition stand builders to a publicly listed company with a global reach from headquarters in the New Territories town of Tai Po in Hong Kong.
Clearwater Communications – Former MCI and Imagination event marketeer Sharon Liu Min set up Hong Kong-based set up CwC in September 2014 to meet the demand for independent agencies that can exercise flexibility to a select roster of clients.
Cievents – The Flight Centre brand is making strides into the creative events space, particularly with the acquisition of Hong Kong's Maya Events in 2016, which sees Maya founder Mireya Garcia as creative director.